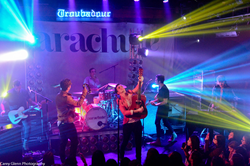 Fairfield, CT (PRWEB) July 21, 2016
The Fairfield Theatre Company got together with The Chelsea Restaurant, Fairfield Circle Inn, and Uber to present a summertime staycation package. A meet-and-greet with pop-rock band Parachute, along with concert tickets, dinner, drinks, and a one-night hotel accommodation are available for two lucky winners.
Summertime in Fairfield: beaches, ice cream, live music, and some of the best restaurants around. Why would anyone ever want to leave? The answer is that no one would. So, FTC has teamed up with Uber to put together a Fairfield staycation for the ages. Two lucky Uber riders will win a pair of tickets and meet-and-greet passes to see Parachute live on July 28 in The Warehouse, a night's stay for two at the Fairfield Circle Inn, and a $100 gift card for dinner and drinks at The Chelsea. Second-prize winners will receive a four-pack of tickets and meet-and-greet passes to the show. All third-prize winners are guaranteed a pair of tickets to the concert.
Participants can enter by opening the Uber app on their smartphone and entering promo code FTCGiveaway1. Winners will be notified by email on July 25. Tickets to see Parachute Thursday, July 28 in The Warehouse are on sale to the public for $25.
Parachute
The Warehouse at FTC
Thursday, July 28
6:30 p.m. Doors, 7:30 p.m. Show
Tickets: $25 General Admission
Visit http://www.fairfieldtheatre.org for samples of the music and ticketing information.
About Fairfield Theatre Company:
Fairfield Theatre Company is a highly-acclaimed nonprofit performing arts organization located in the heart of downtown at 70 Sanford St., Fairfield, Connecticut. FTC presents over 300 performances and concerts each year featuring outstanding national talent on FTC's StageOne in Fairfield, The Warehouse at FTC in Fairfield, the Klein Auditorium in Bridgeport, and the Norwalk Concert Hall. FTC's venues are widely recognized as being the best places to see live performances in the region. FTC is dedicated to providing the highest quality arts, entertainment, and educational experiences to the communities we serve.