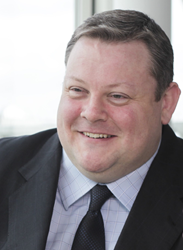 "Paul has the right experience and skills to execute our corporate strategy and guide the region to the next level."
New York, NY (PRWEB) July 22, 2016
Eccella Corporation, a leading Data Management and Analytics company, announces the hire of Paul Phillips as Director of their UK Practice. Phillips will lead Eccella's accelerated growth in the EMEA market, which will involve scaling up partnerships, innovation, delivery and sales. Paul and the UK team will expand Eccella's ability to help organizations in the region optimize their operations and finetune decision-making by wisely investing in data-based solutions.
"We are so excited to bring Paul on to the team," Eccella CEO Meitav Harpaz said. "Paul has the right experience and skills to execute our corporate strategy and guide the region to the next level. In addition, Paul understands the data lifecycle and how to align it to any business initiative, which is where most organizations need help. He is a great addition to our company and management team."
Paul brings over 22 years of experience in helping organizations maximize the return on their data investment. With expertise in Data Integration, Data Quality and Business Intelligence, Paul is well versed in deploying data management and analytics solutions in organizations of all sizes. Prior to joining Eccella, Paul worked as the Technical Director for Information Builders UK, a business intelligence software provider.
"Eccella has an enviable track record when it comes to customer service and has extremely highly rated delivery standards," Phillips said. "Eccella's growing team of professionals share a common goal of enabling organizations to become data driven; monetizing their data assets and achieving fast ROI through our value based methodologies. I am proud to lead the UK business and look forward to nurturing old, new and future customer relationships and shared success."
For more information about Eccella and its services, please visit http://www.eccella.com.
About Eccella
Founded in 2010, Eccella Corporation is headquartered in New York City, with additional offices in London and Mumbai. Eccella specializes in Data Management and Analytics and has partnered with the leading software vendors to provide advisory, solutions and implementations services to organizations of all sizes, across multiple industries. Eccella's goal is to help its clients craft the best data strategy for their organization and implement solutions in support of their operational needs and growth goals.