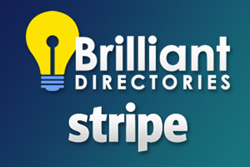 Brilliant Directories overhauled their billing system to add additional payment processing functionality.
Los Angeles, California (PRWEB) July 22, 2016
Brilliant Directories is a SaaS (software as a service) platform that allows users to create business directories and membership websites. Brilliant Directories users often utilize the included payment processing tools to manage member payments, past-due payments, automated recurring payments, and member upgrades.
In May 2016, Brilliant Directories overhauled their billing system to add additional payment processing functionality. Users can now seamlessly integrate their preferred third-party payment gateway in order to process all transactions and sales.
PayPal, Authorize.NET, eWay, 2Checkout and other gateways have now been integrated with Brilliant Directories. The most notable integrated payment gateway is Stripe. According to Business News Daily, Stripe is the "best online credit card processor for small business."
Datanyze reports that PayPal has an extensive market share of 81.8%. Stripe is second with 4.1%, Authorize.NET with 2.5%, eWay with 0.3%, and 2Checkout with 0.2%. Reflected upon these percentages is the number of customer migrations for each company. In June, 2016, PayPal added a total of 6,535 new customers, Stripe added the second most new customers at 1,422, and Authorize.NET – listed fourth for most new customers – added just 120 in June. These monthly numbers are consistent for all of 2016.
Having only been founded in 2011, Stripe has surged in the market place to become the second most popular payment gateway behind PayPal. Due to its many accolades, Stripe is Brilliant Directories' preferred payment gateway. Its user-centric design allows Brilliant Directories customers to integrate the gateway with their website in a matter of minutes. Stripe is currently the most stable option with free signup, no monthly fees, relatively low transaction rates, and supports over 100 currencies.
Because Stripe is the newest payment gateway that was built from the ground up, it includes all of the latest security precautions and is certified to PCI Service Provider Level 1 – the the most stringent level of certification available in the payments industry.
This significant update to the Brilliant Directories platform provides users and website members with more flexibility and control over online payments. With millions of people currently using the newly integrated payment gateways, Brilliant Directories has exponentially widened its demographic of potential users and customers.
##################################
If you are still learning about Brilliant Directories, they invite you to try a 14-day free trial of the directory website software.
Brilliant Directories is a Silicon Beach software company. Their website building platform is used to create virtually any type of public or private website. Founded in 2009, Brilliant Directories powers thousands of websites worldwide – Learn more at BrilliantDirectories.com or call 1-800-771-9332.