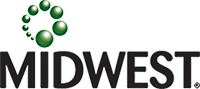 Canton, Ohio (PRWEB) July 21, 2016
As road engineers in both the private and public sectors face tightening budgets and stricter guidelines for environmental compliance, traditional roadway construction methods have not evolved with the times. Midwest's approach represents an important step forward in this regard. The debut of its new GreenPave chemical soil stabilization technology, the product of years of research in its R&D laboratory and extensive field testing, provides an innovative surface stabilization solution that serves as a viable alternative to paving.
The GreenPave solution is extremely versatile, and can be applied to subgrades, wear courses and roads to be chip sealed. Because these stabilization techniques can be applied to virtually any road, no matter its soil composition, clients from all over the world have already successfully implemented the GreenPave solution.
In addition to the improved strength and durability it affords, GreenPave's expertly engineered solutions deliver a more cost-effective road surface than conventional paving, extending the economic life of the roadbed and reducing costs associated with road construction. Small towns across America are taking note, and a recent Wired article claims 27 states have undertaken efforts to reclaim paved roads, returning them to dirt or gravel. The future for GreenPave is bright.
By utilizing environmentally benign products, Midwest's GreenPave solution builds a road's strength while minimizing the environmental impact of construction. GreenPave has been shown to increase the CBR of roads and improve structural integrity over time, while simultaneously reducing harmful moisture penetration. But most importantly, GreenPave can work anywhere -- regardless of location, soil makeup, or timeframe, Midwest strengthens road surfaces affordably and sustainably.
Midwest's experts have been hard at work across the globe, outfitting a diverse range of industrial and municipal roadways with highly personalized stabilization solutions. Regardless of the particular circumstances of a site, Midwest develops custom-designed GreenPave plans that deliver results quickly and efficiently.
About Midwest
Midwest is the world leader in environmentally sound dust control, erosion control, and soil stabilization technology. We bring our customers more solutions, documentation and support than any other manufacturer.