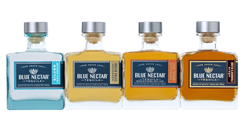 NEW YORK, NY (PRWEB) July 26, 2016
Blue Nectar Tequila (http://www.bluenectartequila.com), the hand-crafted, super-premium Tequila focused on agave-forward flavor profiles, celebrates its five year anniversary by announcing the launch of an integrated communications campaign. The campaign will support sales growth in the U.S. market of their four Tequila expressions – Silver, Reposado Extra Blend, Reposado Special Craft, and Añejo Founder's Blend.
To execute the integrated communications campaign, Blue Nectar Tequila has retained Colangelo & Partners, a wine and spirits integrated communications agency with offices in New York and San Francisco. The campaign will include media relations, social media, trade outreach and events.
Father-and-son duo, BN Bahadur and Nikhil Bahadur, co-founded Blue Nectar Tequila out of a birthday tradition of swapping bottles of Tequila that ultimately led to several trips to Mexico in search of the best producers and suppliers. Their passion and quest ultimately led them to create their own Tequila and partner with another family-owned company to be their grower and distiller.
After nearly two years of experimentation, Master Blender Guillermo Garcia-Lay, a former Bacardi Master Blender, has helped BN and Nikhil achieve the best combinations of distillation, aging, and blending methods. Blue Nectar Tequila is distinguished by its unique blends and infusions: Blue Nectar Reposado Special Craft is infused with essential oils and a hint of agave nectar; the Blue Nectar Reposado Extra Blend is blended with three year old extra añejo; and the Blue Nectar Añejo Founder's Blend is blended with five year old extra añejo. The results are small-batch, specially-crafted Tequilas from the valley of Jalisco with a unique flavor profile compared to the more common highland Tequilas found today.
Colangelo & Partners' integrated communications program will not only focus on generating buzz about the brand in the media and on social media, but will also educate consumers and trade about the spirit and its origins.
"By working in partnership with Colangelo & Partners, we strive to introduce consumers to Tequilas that stay true to tradition, yet are unique in their own right. Our four Tequilas are distinct, yet well-balanced with an agave-forward, earthy body, which comes from the rich volcanic soils of the valley," said Co-Founder and COO Nikhil Bahadur.
For more information about Blue Nectar Tequila, please visit http://www.bluenectartequila.com. Join in the conversation with Blue Nectar on Facebook at /bluenectartequila and follow @bluenectartequila on Instagram and @TrueBlueNectar on Twitter.
About Blue Nectar Tequila:
Founded by father and son BN and Nikhil Bahadur, Blue Nectar Tequila is a small-batch, super-premium Tequila focused on agave-forward flavor profiles indicative of the terroir of "el valle" or the valley of the Tequila producing region. Using estate-grown blue agaves from "el valle", Blue Nectar skillfully crafts and bottles its Tequilas in Amatitán, Mexico, widely recognized as the birthplace of Tequila. Since its launch in 2011, Blue Nectar has garnered numerous industry accolades in both the United States and Mexico, including 97 points and a Chairman's Trophy award for Best Reposado Tequila in 2014, 2015 and 2016 by the highly-esteemed Ultimate Spirits Challenge. Current production includes Silver, Reposado Extra Blend, Reposado Special Craft and Añejo Founder's Blend Tequilas.
About Colangelo & Partners:
Colangelo & Partners (http://www.colangelopr.com) specializes in premium food, wine, spirits and lifestyle brands, and has long established relationships with the key press that drive these business categories and help determine the industry leaders. Agency principals have years of experience in retail and distribution as well as communications, a rare combination that gives Colangelo & Partners invaluable insights into consumer purchasing behavior. The agency focuses on 'closing the loop' between creative communications programs, distribution, promotion, publicity and the consumer in order to maximize the efficiency of its communications programs and deliver measurable results. Founded in 2006, Colangelo & Partners was honored as one of the year's top integrated communications firms at the 2013 Agency Elite Awards and for one of the best digital marketing campaigns at the 2014 Digital PR Awards.