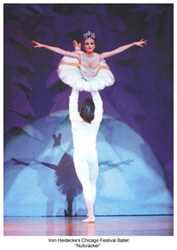 Naperville, IL (PRWEB) July 23, 2016
Students and dancers are invited to audition for the Von Heidecke Dance Center School. Selected dancers from the school will be invited to participate in the professional production of the Chicago Festival Ballet's production of the Nutcracker, but are not obligated to participate. Students from the school will also be invited to appear on the Dance Center's float in the Naperville Last Fling Labor Day parade on Monday, September 5th. Parent volunteers will be needed to walk with the float. Auditions and placement levels will be held on Saturday, Aug. 6, at Von Heidecke's Dance Center, 1239 S Naper Blvd, Naperville, IL
Auditions will take place according to the following schedule:

12:30 - 12:45 pm: dancers ages 3-6
12:45 – 1:00pm: dancers ages 7-10
1:00 – 2:00pm: dancers age 11 - professional level
Dancers must arrive 30 minutes prior to their age group's start time to register. The audition fee is $10 per student. Preregistrations are welcome. New students, or former students (who have not attended classes here since December 2015), attending the audition may receive a one time special offer of 50% off tuition for term 1 if registering on audition day. Audition forms and information on the school are available on our websites at http://www.chicagofestivalballet.com and
http://www.vhdancecenter.com
The Von Heidecke Chicago Festival Ballet will present "The Nutcracker," choreographed by Kenneth von Heidecke locally at the Rialto Square Theatre in Joliet, and the McAninch Arts Center at the College of DuPage.
The Nutcracker performance dates are as follows:
Sunday, Nov. 27 at 2 p.m., Rialto Square Theatre, 15 E. Van Buren St., Joliet, Illinois
Saturday, Dec. 17, at 2 p.m. and 7 p.m., and Sunday, Dec. 18 at 1 p.m. and 5 p.m.
McAninch Arts Center at College of DuPage, Glen Ellyn, IL
This production is choreographed by Kenneth Von Heidecke, who is the protégé of legendary Prima Ballerina Assoluta Maria Tallchief, and whose works are seen around the world. It boasts internationally acclaimed principal dancers, spectacular scenery and costumes. President Obama's daughters appeared in this production of the Nutcracker, downtown at the Harris Theater in 2007 when President Obama was still a Senator of Illinois. Senator Obama went backstage to meet Mr. Von Heidecke and Maria Tallchief to say it was one of the best productions of the Nutcracker that he has ever seen.
Mr. Von Heidecke is in the Fox Valley Arts Hall of Fame, and a plaque commemorating his achievements is in the lobby of the Paramount Arts Center. Most recently, his former High School has selected him to receive the York Distinguished Alumni 2015 Dukes of Distinction Award. A plaque will be hung in the lobby of York Community High School honoring him. He is also the subject of a film biography on his life by filmmaker and composer, Stuart Meyer. The film is now in its final editing stages.
The school also boasts an unbelievable number of more than 40 students going on to incredible professional careers. Amongst the most elite alumni are Gold medalist U.S. Olympic figure skater Evan Lysecek, as well as Victoria Born of the popular baller film "Center Stage" and Joffery principal dancer Joanna Wozniak.
For more information, call (630) 527-1052 or visit our website at http://www.chicagofestivalballet for an audition form.