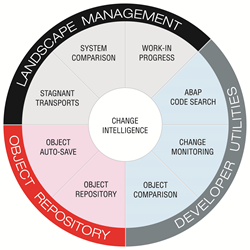 Unlike most other trial software, Salt is fully functional for download and can be used on up to three SAP systems.
Melbourne, AU (PRWEB) July 26, 2016
Revelation Software Concepts (RSC), a pioneer and market leader in simplifying change control and creator of the widely used Rev-Trac SAP change control automation software, today announced it has partnered with SUSE through the SUSE Connect program, which helps IT managers quickly find needed software and services in support of their SAP solutions.
The SUSE Connect program, available within SUSE Linux Enterprise Server 12 SP1 for SAP Applications, provides access to SUSE Linux Enterprise tested and certified products to help run SAP systems more efficiently. Whether your system runs in the cloud on HANA or in an on-premises local data center, SAP solution provider products are pretested through the SUSE Connect program for compatibility and performance on your specific systems, removing the risk of installing software that will cause problems in the future.
"We're delighted by this opportunity to provide RSC's Salt SAP change intelligence software to organizations using SUSE Linux Enterprise Server 12 SP1 for SAP Applications, the leading Linux platform for SAP solutions," said Rick Porter, Vice President Business Development at RSC. "SUSE Connect's software discovery zone will give many more SAP software users access to Salt's change intelligence, saving companies both time and money in maintaining their core SAP software and custom applications written in the ABAP® programming language."
Salt gives instant visibility into an organization's custom ABAP code and objects. Unlike most other trial software, Salt is fully functional for download and can be used on up to three SAP systems. Salt's powerful functionality lets you accomplish tasks such as comparing object versions, monitoring work in progress, keeping systems in sync and finding specific pieces of code quickly and without difficulty. Users find Salt's set of change intelligence applications indispensable for efficient, effective management of ABAP software and code repositories.
"SUSE Connect resembles a select 'app store' for enterprise applications and services," said Dirk Oppenkowski, Global SAP Alliance Director for SUSE. "Users find known-compatible third-party products for SAP solutions and avoid casting about in the commercial and open source universes for compatible software that can fill a current need. They benefit from a one-click experience with third-party trial software that is automatically installed on a server they specify and can trial it there. We're delighted to include Salt in our select catalog of fully tested, SUSE Linux Enterprise certified solutions."
SUSE Connect users can contact a vendor to purchase or license the software, fully confident that their systems will not experience compatibility problems. For more about the SUSE Connect program, including partner application information, visit http://www.suse.com/suseconnect.
Salt has achieved certified integration with SAP NetWeaver running on SAP HANA and provides rapid, reliable and up-to-date information on ABAP applications no matter how highly customized. For more information about RSC's powerful suite of Salt SAP change intelligence applications, visit http://www.xrsc.com/salt/ where more details are available and brief demo videos show each Salt application in use.
About RSC
Revelation Software Concepts (RSC) specializes in simplifying change control for SAP solutions, developing market-leading technology to reduce the risks and lower the costs of delivering changes into information systems. Since RSC was founded in 1997, some of the world's largest companies have come to rely upon its mature change-control solutions. Its deep expertise and responsive support have made RSC a leading change-control specialist for SAP solution–based infrastructures around the globe. RSC is 100% SAP solution-focused. Its products simplify change control for both ABAP and non-ABAP programming language–based technologies, reflecting RSC's commitment to technologically innovative change-control solutions that serve current market needs. For more information, visit http://www.xrsc.com.
# # #
Note to Editors— Rev-Trac is a registered trademark of Revelation Software Concepts Pty Ltd. SAP, ABAP and all SAP logos are the trademarks or registered trademarks of SAP AG in Germany and in several other countries. SUSE and the SUSE logo are registered trademarks of SUSE LLC in the United States and other countries. All other trademarks or registered trademarks are the property of their respective owners.