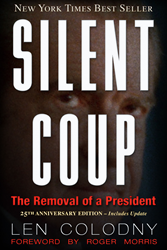 You are about to read the story of a coup d'etat, of all political events the most dramatic, suspenseful, sinister. To make the subject even more ominous, this is an American coup, albeit carried out (for a change) in the United States itself.
Walterville, OR (PRWEB) August 01, 2016
It is quite unusual to have a book release with this much supporting information and evidence, already at your fingertips. Please visit each one of our links on the watergate.com website.
In this link there is a HUGE amount of information about the book, including reviews, letters of praise, sample web pages on the Military Spy Ring that moved against Nixon and the secret relationship between Bob Woodward and General Alexander Haig, historical photos, and even a letter from Nixon himself.
There is a special C-SPAN Booknotes video with Brian Lamb, who challenges the Silent Coup theory, and within an hour one can learn all about the contents of this great book.
"Silent Coup is the excavation of some vital hidden history, of a national scandal within a scandal, and of a literary-journalistic atrocity of revealing while concealing.
There are several virtues that make this book quite remarkable among political writing of our era. What follows is a finely styled, fast-paced narrative, gripping as it is disturbing. Distinguished from so much written about Watergate and Richard Nixon, it also happens to be true.
You are about to read the story of a coup d'etat, of all political events the most dramatic, suspenseful, sinister. To make the subject even more ominous, this is an American coup, albeit carried out (for a change) in the United States itself." -Roger Morris, former National Security Council Staff Member, author of RICHARD MILHOUS NIXON: THE RISE OF AN AMERICAN POLITICIAN