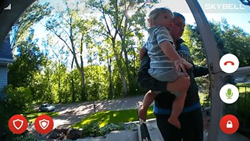 Orem, UT (PRWEB) July 22, 2016
NorthStar Home's smart doorbell camera is the only solution on the market that allows a customer to see who is at their doorstep and lock/unlock a door or arm/disarm the security system, all from the same screen – using the NorthStar Connect app. Through NorthStar Connect on iOS devices, customers have full control of their home and NorthStar system anywhere at any time. NorthStar Connect increases user convenience and overall safety.
When a visitor presses the button or if motion is detected, the smart doorbell camera sends a live video notification to the users mobile device, allowing the user within seconds to see, hear and speak to the visitor through the phone. The NorthStar doorbell camera also has the highest-quality video resolution on the market, at up to 1080p HD, with a full-screen landscape-oriented video.
###
About NorthStar Home
NorthStar Home is one of the fastest-growing home security and automation companies in North America. Since 2000, NorthStar has been providing families with peace of mind, while staying true to the core values of integrity, accountability, and service. NorthStar is now serving over 50,000 customers nationwide, and has the equipment, relationships, and reputation that you can count on. Visit northstarhome.com for more information.