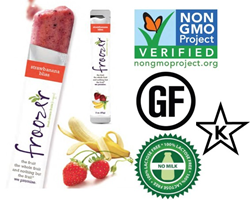 "Froozer® is the most delicious delivery system of fruits and vegetables with no added sugar I've ever had" -- Tara Collingwood, Team Dietitian for the Orlando Magic NBA team and Nutrition Consultant for the University of Central Florida (UCF) Athletics.
Denver, CO (PRWEB) August 09, 2016
Froozer® CEO and Chairman of the Board, Des Hague, announced today that an all star cast of influential dietitians will head up the Froozer® Health and Wellness Council. Froozer® is a rapidly growing snack innovator of freshly harvested and flash-frozen fruits and vegetables. The Froozer® Health and Wellness Council includes Tara Collingwood, Team Dietitian for the Orlando Magic NBA team, Beth Miller, Director of Sports Nutrition with UCLA and Jessica LaRoche, Sports Nutritionist with US Speedskating.
"Froozer is working tirelessly to be the healthiest every day snack brand in America," said Hague before continuing, "we have a great line-up of products but we know that we must keep improving to stay ahead. Hence, we are proud to announce the formation of our Health and Wellness Council."
Collingwood said, "Froozer is not only a refreshing and convenient snack, but its nutritional value is fantastic." She continued, "Froozer is the most delicious delivery system of fruits and vegetables with no added sugar I've ever had! I love it for kids, athletes, people on a soft diet…..really anyone can enjoy Froozer."
In addition to being the Team Dietitian for the Orlando Magic NBA team, Collingwood is currently the Nutrition Consultant for the University of Central Florida (UCF) Athletics, as well as the "official nutritionist" for runDisney endurance events. Collingwood is the author of "Pregnancy Cooking & Nutrition for Dummies" (2012) and "Flat Belly Cookbook for Dummies" (2014). She is also a spokesperson and is quoted in a variety of media including television, radio, newspapers, magazines, and websites, and is a past National Media Spokesperson for the Academy of Nutrition and Dietetics. She helps senior executives from Fortune 500 companies manage their energy in her role as a nutrition and movement coach at the Johnson & Johnson Human Performance Institute. In addition, Collingwood was the co-host of Emotional Mojo, a national television show where she was the resident nutrition and health expert from 2013-2015. You can find her at http://www.dietdiva.net.
"I'm excited to join the Froozer Health and Wellness Council as they continue to innovate and provide quality, nutrient-rich products that are naturally delicious and nutritious," stated LaRoche. "This will be a great opportunity to contribute to an organization that is dedicated to fueling athletes with simple, whole ingredients in the most sustainable way possible," concluded LaRoche.
LaRoche, a Registered Dietitian and Board Certified Sports Dietitian, is excited to work as the sports nutritionist for the US Speed Skating National Team in Kearns, Utah. Jessica views nutrition as an integral part of performance and enjoys empowering athletes with the skills to succeed. LaRoche graduated with a Master's Degree in Nutrition from the University of Utah in 2010. She has previously worked as a nutrition educator at a major regional hospital and as a supermarket dietitian at a family-owned grocery store in Utah.
Miller said, "Froozer is committed to producing great tasting products made only with top quality, natural ingredients, making it easy for me to recommend these products to athletes. I am looking forward to helping build their product line and give back to the community through the Froozer Fuels Funds while doing it," concluded Miller.
Miller joined the UCLA Athletics staff as Director of Sports Nutrition in July 2015. She is responsible for planning, developing, implementing and managing all sports nutrition services provided to all Olympic sport student-athletes. Miller provides team nutrition education as well as medical and performance-based counseling to enhance the health and well-being of all athletes. Prior to UCLA, Miller worked within the Sports Nutrition department at Florida State University and the University of Tennessee. Miller received her Master's in Exercise Science from Florida State and Bachelor's in Dietetics at Tennessee Tech University, where she was a member of the Varsity Cross Country and Track teams.
"The council's charter is to ensure Froozer stays abreast of all nutrition trends and best practices, in addition to assisting with our innovation pipeline," Hague said.
About Froozer® - "simple ingredients. real nutrition."
Froozer® products, the official healthy frozen fruit & veggie snack partner of US Speed Skating, represent the pure goodness of freshly harvested fruits & veggies picked at the peak of their ripeness, flash-frozen whole and blended for optimal taste, nutrition and digestion. Natural fruits and veggies in all their glory, nothing added or subtracted, not even a drop of water. Available in three delicious flavors - STRAWBANANA BLISS, TROPICAL SUNSET and BLUE ALOHA - in 6-pack boxes. Look for Froozer® in your local grocery store freezer at select fine retail locations in the Denver Area, including WholeFoods and Alfalfa's, and various select retailers in Arizona, California, Connecticut, Oregon, Washington State, Rhode Island and Alaska, or place your order for a 48-count box at http://www.Froozer.com or http://www.amazon.com to have your Froozer® delivered directly to your home or office.
For more information: http://froozer.com/
Contact: Renate Siekmann, VP Marketing, Corporate Strategy and Communications, Froozer®
Phone:215-539-9481, rsiekmann(at)froozer(dot)com
Connect with Froozer® on Facebook or Twitter