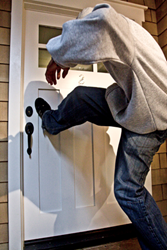 With one kick almost any locked door on the market can easily be kicked in without much noise. A criminal only needs a few minutes to get in and out, which makes your alarm pretty much useless.
(PRWEB) July 22, 2016
It's 1:30 AM, a homeowner allegedly wakes up to hear a group of teenagers stealing from his property. It's reported that he goes to his porch and open fires on the supposed criminals. However there's a big problem, they weren't robbing him, they were playing Pokémon Go and collecting digital creatures outside his house.
This story paints a stark picture of the blended technological/physical world. As the digital sphere progresses and becomes more intertwined with personal lives, there are some definite benefits to be had. Right now Amazon can predict when a person is going to run out of oatmeal and toilet paper and automatically reorder those products. Drones will soon be delivering pizzas to doorsteps with the push of a button. Interactive video games have blended a virtual world over the real world to create an overall immersive experience. However with these new experiences and creative experiences comes a plethora of new potential dangers, which are difficult for the average consumer to navigate. Armor Concepts is a security consultancy based in Nashville Tennessee, their CEO Alan Young offers seven security tips that relate to consumers digital and personal security.
1. In this first tip, we cover some basics regarding the use of social media. Don't post pictures of your vacation until after you get back; this is one of the biggest tip-offs for burglars that your home is ready to be broken into. Be aware of what you're taking pictures of when you post them. Is that a big screen TV in the background of your Instagram post? Does that Facebook update show a pic of your brand new laptop and camera? Be aware that these pictures can inform anyone viewing your account what valuables you have at your house. Be aware of what you're posting, who can view it and what they might be seeing.
2. Be careful with geo-tagging your location. That cool picture you just uploaded to Instagram with your house location on it…that can be used by criminals to locate where you live and track what you are doing. Don't leave a trail of digital breadcrumbs to your home.
3. Speaking of pictures…take pictures of large, imposing dogs. Even if that dog isn't yours, post it up on Snapchat, Instagram and Facebook. If you can give the impression that a Mastiff or a Rottweiler lives at your house, you've established a large deterrent for a criminal. It's also smart to put up a beware of dog sign by your home as well. A dog is a homeowner's best friend…even if the dog doesn't actually live there.
4. Be proactive with your security. Keep your valuables in a locked drawer. Keep your guns stored in your safe. Keep your laptop in your briefcase or backpack where its not easy to snatch and grab. Don't cut corners and forget to lock your front and back door. Simple proactive measures can make a big difference between an attempted break-in and a robbery. Make the little choices that create a big difference in your safety.
5. Become friends with your neighbors! Both in real life and on Facebook. You would be shocked to find that another pair of friendly eyes goes a long way in helping identify and monitor suspicious behavior in the neighborhood. Talk to them, make them a cake, bring them some beer, and make sure they know that you appreciate their help in providing a secure environment for the entire neighborhood. Communicating with neighbors in a Facebook group or group chat is an excellent way of staying on top of any security concerns. Being friendly can help make you secure!
6. We know you might want to save money by turning off your lights when you leave the house. But doing so also lets criminals know that you are gone. By leaving on a few key lights, you can give the impression that someone is still home and prevent an attempted break-in by a criminal looking for an easy target. Criminals prefer the dark, light up their world.
7. Finally, more than 85% of break-ins occur through the front and back door. With one kick almost any locked door on the market can easily be kicked in without much noise. A criminal only needs a few minutes to get in and out, which makes your alarm pretty much useless. The most effective and efficient way of keeping criminals out is by reinforcing your doors. Door Armor by Armor Concepts utilizes 16 gauge stainless steel to bolster the frame, hinges, and lock area of the door while securing the entire jamb with deep set screws. Sliding doors can also be secured with Armor Concept's Armor Latch, which prohibits a sliding door from being lifted out of its track. Reinforce your front and back door to prevent the vast majority of break-ins.