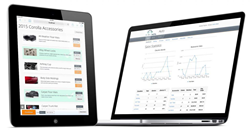 Adworkz is dedicated to serving the small business market with our custom software, web development and mobile app development solutions," states Jason Coffman, Director of Business Development
Seattle, WA (PRWEB) July 26, 2016
Adworkz, a Spokane-based software development and web development company, announces that it will exhibit at SEATTLE SMALL BUSINESS EXPO®, August 11, 2016. The expo is located at the Washington State Convention Center. For more information, and free registration, visit the Seattle event page.
The day-long conference and trade show, which travels throughout the country's top cities for small business, brings together industry thought leaders and experts in a hands-on environment that features more than 20+ free business critical workshops and programs along with 100+ interactive booths, demos and brand exhibits. Headlining the event is Bill Walsh, Founder and CEO of Powerteam International with his presentation Success By Design - The 7 Keys to Build a Mega-Successful Business on the Inspiration 2020 Showcase Theater stage.
Start-ups and business owners can take advantage of free admission and educational workshops covering online/social media marketing, employee benefit plans, credit and financing, strategies for increasing revenue and team productivity, mentoring, cloud technologies, retirement plans, and more.
"Adworkz is pleased to exhibit at the SEATTLE SMALL BUSINESS EXPO. We're looking forward to helping small business owners face their marketing challenges head-on," Chad Flesher, Vice President of Sales, Adworkz
Small Business Expo expects to have more than 3,500+ registered attendees from across the Seattle metropolitan area shopping for business resources, developing business leads, gaining new insights, and networking with peers.
"Experts tell us that more and more Seattle residents are wanting to take the entrepreneurial leap," says event founder Zachary Lezberg, "but that the biggest barrier to starting a new business is that people don't think they can" he adds, "With the program we've put together, we believe our attendees will feel more empowered by the end of the day."
This year's Titanium Sponsor: Powerteam International will be joined by Platinum Sponsor: EmergeAnywhere - Office Space Services; and Silver Sponsors: 2Growit4ward Foundation, BizTV/BizTalkRadio, Black011, Concur, Microsoft, Sprint, YP Marketing Solutions and ZipLocal.
SEATTLE SMALL BUSINESS EXPO will take place at the Washington State Convention Center – 800 Convention Pl, Seattle, WA 98101 from 9:30 am until 5:30pm.
Adworkz will be located at Exhibitor Booth: Hall 4B, Booth 506.
ABOUT ADWORKZ
We're a passionate team of hard-working developers, designers and problem solvers based in Spokane, WA - with offices in Seattle/Tacoma and Boise, ID. When you choose Adworkz, our team becomes your team - dedicated to strategize for you creatively, ambitiously and effectively. Driven to find you real world solutions, to bring your project to life, and to work with and support you through your project's lifecycle.
For more information, visit http://www.adworkz.com, or call 877-239-6759 (877-ADWORKZ).
For additional information, let's connect:
LinkedIn: https://www.linkedin.com/company/Adworkz