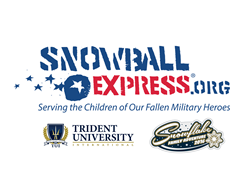 We're proud to give back to the military community through Trident's 'Snowflake Family Adventure.' This event is designed to create a fun-filled day for children who lost a parent while serving in the military. - Travis Allen, President & CEO
Cypress, CA (PRWEB) July 22, 2016
Trident University International (Trident) will again be supporting Snowball Express with "Snowflake Family Adventure" at Universal Studios Hollywood in Universal City, CA on August 10th, starting at 7 am.
Since 2006 Snowball Express has lent a helping hand to children who have lost parents in the service. Their mission is to enrich lives by creating new, happy memories during a four-day weekend that's filled with fun activities like sporting events, dances, an amusement park, and much more.
"Snowflake Family Adventure" will be a daylong event for approximately 70 children and their surviving parent or family member. Several members of Trident's faculty and staff will serve as volunteers for the day. Additionally, Trident has been conducting a number of fundraising initiatives to support this event.
The University is seeking to raise $20,000 to ensure no participating family has to pay out of pocket for this worthwhile event. Learn about how you can help here: http://bit.ly/29kfTPd
Trident has received support and donations from local organizations such as Hybrid Apparel, FYT Gym, Ganahl Lumber, El Torito, Blake's Place, Maderas Steak & Ribs, Olive Garden, Gourmet Pie & Café, Cassidy Nails and Spa, and Luxor Medical Spa.
"We're proud to give back to the military community through Trident's 'Snowflake Family Adventure.' This event is designed to create a fun-filled day for children who lost a parent while serving in the military," said Travis Allen, President & CEO.
Trident's previous involvement with Snowball Express came in December 2015, when Travis Allen, President & CEO, and Esmeralda Silva, Vice President of Outreach & Strategic Alliances, traveled to Fort Worth, TX for the "Walk of Gratitude" event.
Trident, a 100% online university that has been in operation since 1998, is regionally accredited by the WASC Senior College and University Commission (WSCUC). Active duty military, veterans, National Guard, and military dependents make up 79% of the University's student population, and Trident is proud to employ many veterans at its faculty, staff, and management levels. Of Trident's 28,000 alumni, more than 22,000 have a military affiliation.
For any media inquiries, please contact Daniel Sloan at daniel.sloan(at)trident(dot)edu.
About Trident University
Founded in 1998, Trident University International (Trident) is a leading online postsecondary university serving adult learners. Trident developed the Trident Learning Model, which employs case-based learning in an online setting to teach real-world relevant critical thinking skills to enhance the lives and careers of students. Trident offers high-quality bachelor's, master's, and doctoral degree programs, led by a qualified faculty team, over 80% of whom have doctoral degrees. Visit http://www.trident.edu, Trident's Facebook page, or call at (855) 290-0290 to learn more about Trident's wide range of bachelor's, master's, and doctoral programs.