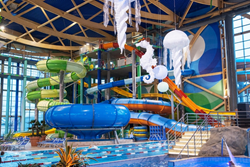 H2o Waterpark in Roston-on-Don,Russia
(PRWEB) August 02, 2016
A "fantastic place for children and your inner child alike" was the type of comment of guests at H20 Aquapark in Roston-on-Don, Russia, that helped propel the facility to top-10 status in Europe - as well as No. 1 status in Russia.
The designation came from fans who posted reviews on the popular TripAdvisor website and was based on an algorithm that counts the quantity and quality of TripAdvisor user's feedback. The ratings' creators also considered guests' assessment of waterparks from around the world in determining which waterparks made the list.
H20's investment in attractions using the latest design, engineering and manufacturing technology was likely one reason for guests' enthusiasm. Polin Waterparks (Turkey) manufactured and supplied all the park's waterslides, which feature its Resin Transfer Molding (RTM) technology. This exclusive manufacturing process gives Polin products a striking appearance with both shiny interiors and exteriors. Polin's high-tech engineers' development of additional special effects - the company's unique Natural Light and Special Pattern Effects - contribute to its attractions' exceptionally attractive waterslides. Plus, the rides are all engineered to offer maximum rider experience.
Multiple awards for the young facility
H20 Indoor Aquapark ranked as No. 7 on the list of top-25 favorite waterparks in Europe and No. 1 in Russia - the first time a Russian facility has made the list. Being named to TripAdvisors' list is not the first time the park has received accolades, however. It also was honored with a Golden Pony Award in 2014 in an international competition of amusement industry operators. That award is given out by Games & Parks Industry magazine.
H20 Indoor Aquapark opened less than a year before earning that award. Part of the Horizon Megacenter Mall (also known as the Gorizont), the largest mall in Southern Russia, the waterpark covers more than 24,000 square meters (78,740 square feet). More than 6,000 square meters (64,583 square feet) are devoted to the waterpark.
In addition to the waterslides, the mall offers a variety of other amenities, including a multiplex cinema, a family entertainment complex, a bowling alley and a fitness center. Park owners invested 1.393 billion rubles (US$45 million) into building the all-season complex. It accommodates as many as 2,500 people a day and employs 160 people.
Top Attractions
Offerings of H20 Aquapark include a variety of waterslides that appeal to a wide range of ages, and all were supplied by Polin Waterparks. They include:
The features of the premiere offerings include:

Multislide. Customers can choose whether to slide down with or without a standard mat, racing to the finish line. Guests enjoy the thrill of head-to-head action.
Kamikaze. Expertly engineered to deliver a thrilling high-speed experience, this slide journeys across multiple high and low points, providing a sensation of free-falling.
Magic Hole. An enclosed slide with a unique elliptical shape and flat bottom, this ride delivers an unforgettable experience with a variety of twists, turns and drops.
Turbo Tunnel Slide + Space Hole. One of Polin's largest offerings for speed riding starts guests in an enclosed slide and exits them into a huge, open bowl where centrifugal forces whirl riders around.
Black Hole. This enclosed tube slide offers a variety of special effects to create an out-of-this-world visual experience.
Black Hole+Flying Boats Combination. Guests are propelled along a wild roller-coaster-style journey that ends with a surprise drop.
Tunnel Body Slide. This specially engineered ride delivers a long, smooth journey accompanied by visual and auditory effects.
Giant Body Slide. A versatile open slide offers sections of drops and straightaways that generate multiple levels of speed.
Tsunami Slide. High-capacityi s the feature of this waterslide that is strategically designed for "end-to-end" excitement.
Themed Aquatower Type 500. A multi-level water-play structure for kids, this attraction has a "Pirates of the Mediterranean" theme and elements such as slides, tipping buckets, water cannons and net climbs.
Selim Doguoglu, General Manager of the Russian office of Polin Waterparks, says Polin focuses on creating rides that deliver thrilling adrenaline rushes that keep guests coming back. "It's a real honor to know that our attractions are helping our partners like H20 Aquapark not just satisfy their patrons but gain their enduring affection," he says. "It's truly satisfying to see the comments guests make after experiencing our designs. We know we've succeeded when guests rate our partners' parks with their highest reviews."
Please click to download high resolution images of the press release