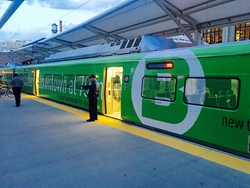 We are very pleased with the vigorous safety certification process that TSSS led.
Denver, CO (PRWEB) July 25, 2016
Transit Safety & Security Solutions, Inc. (TSSS) is proud to announce the commuter rail line that will "Boost Your Commute" is now open for business. The Regional Transportation District's (RTD) Northwest B Line Grand Opening Celebration is Monday, July 25, 2016, with a ceremony from 10am to 11am and family-friendly festivities from 11am to 4pm. The B Line Northwest Rail Line is a 41-mile high-capacity, fixed-guideway transit project from Denver Union Station to Longmont. The first 6.2-mile segment of the Northwest Rail Line from Denver Union Station to south Westminster (71st Ave. and Lowell Blvd.) was funded as part of the Eagle P3 project and just received its System Safety and Security Certification by TSSS.
TSSS is part of the Denver Transit Partners, LLC (DTP) team, the RTD's selected concessionaire owned by Fluor Enterprises, Inc., Denver Rail (Eagle) Holdings, Inc., and Aberdeen Infrastructure Investments (No 4) USA LLC, and is leading the system safety and security effort for the $2.2 billion Eagle P3 capital project. TSSS is responsible for ensuring the commuter rail network, which consists of three rail corridors, 36 miles of new track, 16 stations, and 56 vehicles, is certified to be safe and secure for revenue service. "We are very pleased with the vigorous safety certification process that TSSS led," stated Aaron Epstein, DTP's Executive Project Director and CEO. "Safety has always been our number one priority, and TSSS was critical in helping to lead the Eagle project to success, safely."
Following the certification, Jean Claude Aurel, Jr., MPA, ASP, CSP, TSSP, WSO-CSSD, President and CEO exclaimed, "TSSS is proud to have been a member of the DTP, which has opened a safe and secure commuter rail system for the citizens of Denver. The rail system will provide a direct route to Denver Union Station and a link to the airport from Westminster. Greater options for the surrounding metropolitan area will create excellent opportunities for residents. TSSS is committed to mitigating risks and maximizing the safety of rail travel for all projects on which we have the pleasure of working or providing expertise."
About Transit Safety & Security Solutions, Inc.
Transit Safety & Security Solutions, Inc. is a comprehensive consulting firm specializing in strategic support to ensure safe and secure projects, systems and operating environments for public transit, construction and homeland security programs. Leveraging decades of system safety and security engineering, cyber security, quality assurance, and project management experience, TSSS experts identify project risks and develop tailored solutions to diminish those risks to a practical level. TSSS is also a Certified Minority Business Enterprise (MBE), Disadvantaged Business Enterprise (DBE) and/or Small Business Enterprise (SBE) in several states. For more information on the firm's safety and security services, please visit TSSS's website.