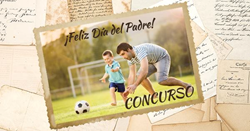 Atlanta, Georgia (PRWEB) July 24, 2016
No matter the personal background, fathers are always key figures in their stories. To celebrate these childhood heroes, LlamaRepublicaDominicana.com invites its customers to travel back into the past, through a nostalgic Facebook contest, challenging them to remember one important lesson their fathers taught them. The prize offered is $10 free Voice Credit the customers can use to call their fathers on Father's Day: https://www.facebook.com/LlamaRepublicaDominicana
The contest starts on July 26 and ends on July 28, 2016. The winner will be randomly selected from those who commented to the post on July 26, on the Facebook page of LlamaRepublicaDominicana.com community: https://www.facebook.com/LlamaRepublicaDominicana
The rates for international calls to Republica Dominicana are as low as 2.5 ¢/min for landlines and 7.9 ¢/min for mobiles. This means that the $10 prize can be used for 400 calling minutes, in case the winner calls landlines in Republica Dominicana, or 125 minutes, in case their loved ones luse mobiles more.
The Facebook contest challenge expats to remember their fathers' lessons. The video post created by LlamaRepublicaDominicana.com team focuses on the impact of dads in people's lives. Sometimes role models, sometimes best friends or great playmates, fathers are always there for their children to show them you how things work in this world: hands are designed to hold one another, bikes are made to be tamed, garages are meant to be great playgrounds. All these make children believe that their fathers have great powers and that's why LlamaRepublicaDominicana.com launches this wonderful and challenging exercise: remembering the great lessons the childhood superheroes taught their children.
The Voice Credit service with LlamaRepublicaDominicana.com can be used to place international calls from:

any phone, through the use of access numbers,
from any computer, through the Web Call application or
from any smartphone, as LlamaRepublicaDominicana.com offers a free app, for both iOS and Android devices, called KeepCalling.
In addition to Voice Credit, LlamaRepublicaDominicana.com also offers Mobile Recharge and Virtual Numbers. Mobile Recharge is a service through which customers can recharge phones anywhere in the world. The process is fast and secure and the credit reaches its destination instantly. The operators available for top ups to Dominican Republic are Viva, Claro, Orange, Tricom, and Moun.
Virtual Numbers are monthly subscriptions through which customers pay a low monthly fee and receive unlimited calls from another country. The people calling the Virtual Number only pay the rate of a local call.
LlamaRepublicaDominicana.com can be found on Trustpilot, a famous customer review site, where customers express their opinions about the service. One customer says, 'This is the easiest way to make calls and pinless calls and very easy to recharge your airtime without leaving your house to buy calling cards, which most of them steal minutes and are not so cheap.
To find out more about LlamaRepublicaDominicana.com's newest offers, customers are invited to follow their Facebook page: https://www.facebook.com/LlamaRepublicaDominicana.
About LlamaRepublicaDominicana.com:
LlamaRepublicaDominicana.com is an interactive website designed by KeepCalling, a global telecommunications company registered in 2002 in USA. Presently, KeepCalling provides its services to hundreds of thousands of consumers and businesses worldwide, with a focus on customer satisfaction. KeepCalling has been listed by Inc 5000 as one of the fastest growing companies in the USA for 5 consecutive years. In 2015 the company registered a revenue increase of over 200% from 2011 to 2014.