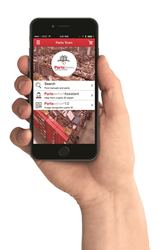 We feel like we are just getting started and plan to continue our streak for many years to come
Addison, IL (PRWEB) July 25, 2016
Parts Town, the leading distributor of genuine OEM restaurant equipment parts, has once again been recognized by Inc. Magazine as one of the fastest growing privately held companies in the United States.
"The Parts Town team is honored to be recognized as one of the fastest growing companies in the United States for the eighth consecutive year," says company CEO Steve Snower. "We have an extremely ambitious team that loves to innovate and grow."
Parts Town's recent notable innovations include a unique automated texting capability, online language selection, and an app update that incorporates LiveChat and voice command. Additionally, Parts Town launched its "Always Available" program, guaranteeing in-stock availability of selected critical OEM parts.
"We feel like we are just getting started and plan to continue our streak for many years to come. We have a major set of innovations coming that we are incredibly excited about," says Snower.
About Inc.
Inc., the only major business magazine dedicated exclusively to owners and managers of growing private companies, delivers real solutions for today's innovative company builders. It provides hands-on tools and market-tested strategies for managing people, finances, sales, marketing, and technology. A Mansueto Ventures LLC publication, Inc. inspires and informs with cutting-edge coverage that reflects our readers' energy, brashness, and imagination.
About Parts Town
Parts Town is a leading distributor of genuine OEM restaurant equipment parts for the foodservice industry. Focused on delivering a unique customer service experience and E-Commerce platform, Parts Town customizes solutions for food equipment manufacturers, chain restaurants, and food equipment service companies. Founded in 1987, Parts Town partners closely with the leading manufacturers of commercial cooking, refrigeration, ice, and beverage equipment to improve their parts supply chain, delight their customers, and grow genuine parts sales. For more information visit Partstown.com or follow on Twitter at @PartsTown.