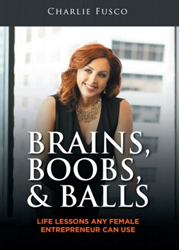 This book is for ANY person who dares venture into the business world, male or female, young or old, rich or poor.
Philadelphia, PA (PRWEB) July 22, 2016
"Why 'Work-Life Balance' is a Lie" and "Why Having a Daily Orgasm Makes You a Smarter CEO" are but two of the frank discoveries included in Brains, Boobs, & Balls: Life Lessons for Female Entrepreneurs by Charlie Fusco. Released in hard cover, paperback and Kindle versions on Amazon in June, the book is an Amazon "Hot New Releases" best seller. To get a signed copy, order directly from http://www.thatgirlcharlie.com.
"I got everything I ever wanted the day I decided I was worth it," says Fusco. "I learned that there is no such thing as work-life balance; there is only building a life that feeds on every kind of woman you want to be. I learned that my screw-ups could actually be the breakthroughs I needed to succeed. I learned to literally fail my way to success!"
Equal parts business strategy, comedy, and personal journey, Brains, Boobs, & Balls does not claim to be a self-help book. Rather, it's a 100 percent uncensored confessional-style account of all the terrible, but survivable, mistakes that can be made while trying to conquer the boardroom, control the family room, and master the bedroom all at the same time.
With an emphasis on insights for female entrepreneurs, Brains, Boobs, & Balls shares Fusco's life lessons acquired from her own journey to personal and professional success:

Why "Work-Life Balance" is a lie
A simple system for making the toughest decisions easy
How conquering F words makes you a fearless entrepreneur
Why having a daily orgasm makes you a smarter CEO
Secrets to surviving any financial crisis
The reviews are in, and here's what readers of Brains, Boobs & Balls have said:
"Much of her more pertinent advice stems from decisions she made as her business was shifting into that next level…"
"I'm reading with my yellow highlighter in hand...tips I don't want to forget. Hell, the whole book can be highlighted. This book is a perfect example of 'I think it, but she said it.'"
"This book is for ANY person who dares venture into the business world, male or female, young or old, rich or poor."
"Fast read. Very funny. The business stuff is mixed in with real scenarios. Made me laugh, think about my business in a different way, and parts of it really hit home."
"Her story is brutally candid, inspirational, and motivating. A fabulous read."
Fusco is an award-winning marketing strategist who started her own company, Synergixx, at age 24. She grew Synergixx into a multi-million-dollar enterprise, working with entrepreneurs every day. She has been credited with creating marketing campaigns responsible for more than $1 billion in global sales. Her innovative creativity in business is sought out by other CEOs and CMOs launching their own initiatives. She is a sought-after speaker and business coach in the direct-to-consumer marketing industry and female entrepreneurship.
Fusco regularly delivers talks at invention expos and consumer product shows, and gives marketing seminars on how to launch products and services as a business. Her strategies are a crowd favorite amongst inventors, retail marketers, online retailers, and venture capitalists looking to invest in the "next big thing." Fusco gives distinct presentations on creating and managing a successful product launch, marketing in traditional media, TV advertising, digital media, and integrating a celebrity into your business. You can see Fusco at the Indy Beauty Expo from August 24th to 25th, the Electronic Retailing Association Convention on September 14th, and Natural Products Expo East from September 22nd to 24th. She will be on a book tour later this year in New York City, Miami, Los Angeles, Austin, Philadelphia, and Las Vegas.
# # #