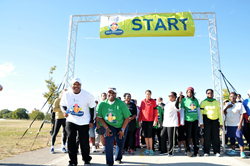 Cleveland, OH (PRWEB) July 22, 2016
Cleveland UNCF will be hosting its second annual 5K walk for education benefiting Ohio students on Saturday, July 23, at North Chagrin Reservation-Strawberry Fields at 8:30 a.m. The walk is chaired by Danyll Jones-Lockhart, the director of national programs at Hugh O'Brian Youth Leadership. Proceeds from the walk will provide Ohio students with necessary resources to further their education.
The grand marshals for this year's signature event will be Rep. Stephanie Howse of Ohio's 11th District and a graduate of historical black college and university Florida A&M University (FAMU); Basheer Jones, a graduate of UNCF-member institution Morehouse College; and Stacey Stoudemire, celebrity chef. Sponsors include Cleveland UNCF Inter-Alumni Council and Cleveland Council of Black Colleges Alumni Association. UNCF events such as this have raised over $130,000 per year for students, and this year the Cleveland office hopes to exceed previous totals.
For more information on the Cleveland UNCF office, visit uncf.org/Cleveland or contact vallery.gaines(at)uncf(dot)org at 216.781.8623
Follow this event @uncfcleveland @uncf #laceup4UNCF
UNCF (the United Negro College Fund) is the nation's largest and most effective minority education organization. To serve youth, the community and the nation, UNCF supports students' education and development through scholarships and other programs, supports and strengthens its 37 member colleges and universities, and advocates for the importance of minority education and college readiness. UNCF institutions and other historically black colleges and universities are highly effective, awarding 21 percent of African American baccalaureate degrees. UNCF administers more than 400 programs, including scholarship, internship and fellowship, mentoring, summer enrichment, and curriculum and faculty development programs. Today, UNCF supports more than 60,000 students at over 1,100 colleges and universities across the country. Its logo features the UNCF torch of leadership in education and its widely recognized motto, "A mind is a terrible thing to waste."® Learn more at UNCF.org or for continuous updates and news, follow UNCF on Twitter at @UNCF.