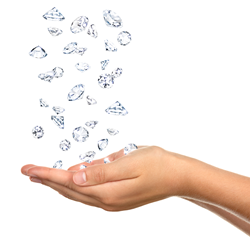 In 2015 Pease & Curren customers made 35 percent more for their diamonds using Direct Buy.
Warwick, RI (PRWEB) July 25, 2016
Pease & Curren, a precious metals refiner/recycler for over a century, has enhanced its Direct Buy Diamond Buying Services.
Direct Buy is available to all Pease & Curren customers who use our stone removal program to remove and refine reclaimed jewelry with stones. Direct Buy is truly a value add service for customers.
Now twice per month, North American diamond buyers come to Pease & Curren to blind bid on customer's stone lots. Unlike other diamond buying services, Pease & Curren does not purchase and resell the diamonds. The check is issued directly from Buyer to Seller.

3 Top Buyers blind bid making for very competitive bids.
No obligation to the customer. You may choose not to accept any bids if you wish.
Save man hours on marketing your own stones.
Be assured of getting the best price possible.
Pease & Curren will securely hold your merchandise until customer release. No shipping or traveling to shows to sell and risking loss.
Experience NO RISK diamond selling. Last year Pease & Curren customers received 35% more for their diamonds by using Direct Buy.
Try our Stone Removal Program and choose the Direct Buy option
http://www.peaseandcurren.com/order-a-container/
About Pease & Curren
With 100 years in the precious metals refining business, the Pease & Curren way is disciplined, honest, consistent, and reputable. We provide the most accurate precious metals refining available on the market today, bringing consistently higher yields to our customers, resulting in maximum returns.
Pease & Curren serves the cremation, dental, manufacturing, pawn/buyers, recycling and retail jewelry markets. P&C has superior programs including: Premium Stone Removal, Choice Appraisal Services, and a fire assay process that is 20 times more accurate than melt and X-Ray analysis. Our facility is one of the most secure refineries in North America and coupled with our five star customer service, we continue to serve our customers with top quality refining.