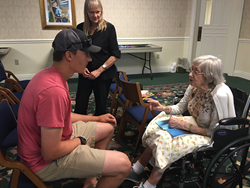 "...once the players got here. . .it just became the extraordinary experience we all hoped it would be."
Mishawaka, Ind. (PRWEB) July 26, 2016
It isn't the most likely combination, but something about two South Bend Cubs minor league baseball pitchers living with the seniors at Saint Joseph Health System St. Paul's just seems to work. In April, these two organizations took on this new adventure by enabling two minor league baseball players and a community of seniors to live together for the summer.
"I don't think anyone knew in the beginning just how it was going to work," said Shari Binkley, executive director at St. Paul's. "But, once the players got here, they had so much in common with the residents that it just became the extraordinary experience we all hoped it would be."
In April, two pitchers for the South Bend Cubs, Carson Sands of Tallahassee, Florida, and Craig Brooks of Monroe, North Carolina, moved into the senior community. Since then, the two have built new relationships, and invited the residents to special outings such as a fishing excursion at a state park and a behind-the-scenes tour of their stadium and field. In July, Brooks was promoted to a Class A Advanced affiliate of the Cubs, the Myrtle Beach Pelicans. Residents continue to monitor Brooks on the community's daily scoreboard. Tanner Griggs, another South Bend Cubs pitcher, also accepted the invitation from St. Paul's to live in the community after Brooks was promoted. Griggs is from League City, Texas.
"The ties between the South Bend Cubs and the seniors in our community are extending beyond anything we have done in the past, allowing some of our players to live in a senior living community this summer," said Joe Hart, president of the South Bend Cubs. "It has provided some great intergenerational opportunities for both the players and the residents, and we look forward to building this program and having it continue to grow each and every year."
According to Binkley, in recent decades the gap between these two generations has widened. Intergenerational programs are needed to try to break down many of the barriers between these generations with experiences that offer opportunities for mutually beneficial learning.
The South Bend Cubs have earned a spot in the Midwest League playoffs in September. The "St. Paul's Fan Club" will be there cheering on their neighbors, and have started planning events around the series.
About Saint Joseph Health System
Saint Joseph Health System (SJHS) is a not-for-profit healthcare system located in North Central Indiana that offers acute-based hospital care and post-acute services including: community wellness, physical rehabilitation, home care, physician clinics, outpatient services, independent and assisted senior living, memory care and affordable senior apartments. SJHS includes: Mishawaka Medical Center; Plymouth Medical Center; Rehabilitation Institute; Outpatient services of the Elm Road Medical Campus; Health Insurance Services; Saint Joseph Physician Network; VNA Home Care; and Senior Living Communities at St. Paul's, Holy Cross and Trinity Tower. SJHS serves more than 200,000 members of the Michiana community annually. SJHS is a Regional Health Ministry of Trinity Health in Livonia, Mich.
About the South Bend Cubs
The South Bend Cubs are a Class A minor league team affiliated with the Chicago Cubs. Over the past 28 seasons, the team has won five Midwest League titles, most recently in 2005, and has captured 12 division titles. In 2015 the team was named Ballpark Digest's Team of the Year and received the John H. Johnson President's Award. The team is owned and operated by Swing-Batter-Swing, LLC whose sole shareholder is Andrew T. Berlin of Chicago, Ill. More information is available at http://www.SouthBendCubs.com.
About the Players
Carson Sands, left-handed pitcher from Tallahassee, Florida, joined the St. Paul's family in April.
Craig Brooks, pitcher from Monroe, North Carolina, joined the St. Pau's family in April. Brooks was recently promoted to a Class A Advanced affiliate of the Cubs, the Myrtle Beach Pelicans.
Tanner Griggs, pitcher from League City, Texas, joined the St. Paul's family in July.
###
Contact: Jessica Schramski Shirley, Public Relations Manager
Saint Joseph Health System
jessica.schramskishirley(at)sjrmc(dot)com
(574) 261-7767 (Cell)
Contact: Joe Hart, President
South Bend Cubs
jhart(at)southbendcubs(dot)com
(574) 235-9988 x201