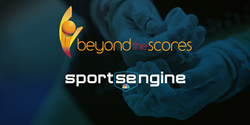 "Beyond The Scores has mastered the technology needed to manage competitions in subjectively scored sports and is a true leader in the sport of gymnastics."
(PRWEB) July 28, 2016
MINNEAPOLIS, Minn. ― SportsEngine announced today that it has acquired Beyond The Scores, one of the leading providers of technology for gymnastics organizations. The entire Beyond The Scores team immediately joins SportsEngine and will continue supporting their 1,500 gymnastics organization customers.
"Beyond The Scores has mastered the technology needed to manage competitions in subjectively scored sports and is a true leader in the sport of gymnastics." said Justin Kaufenberg, co-founder and chief executive officer at SportsEngine. "Subjectively scored sports represent one of the largest sport markets, and bringing the experience and talent from the Beyond The Scores team positions us to not only enter into this space, but have a great head start."
Thousands of sports organizations have chosen SportsEngine to run their online registration, websites, tournaments, leagues and mobile apps. Through these applications, clubs and leagues are able to drastically reduce the time they spend on administration and provide tools that help sports organizations manage, connect, and communicate with a diverse range of stakeholders. More than half a million teams, clubs, leagues and associations around the world are powered by SportsEngine, including the PGA, USA Hockey and the USL. The Minneapolis-based company also provides its services to teams across the MLS, NBA, MLB and NHL.
"Simply put, by joining SportsEngine, we'll be able to leverage their platform resources, customer service, and account management teams to provide an even better experience for our customers." added Mike Zimmerman , chief executive officer at Beyond The Scores. "Our mission has always been to provide a comprehensive and fully connected software platform to manage and score competitions for the sports world. Gymnastics has been our proving ground and stronghold for showcasing some of the most advanced web and mobile applications for subjectively scored sports on the planet. With SportsEngine, we'll be able to accelerate our unified mission by benefiting from deeper integration with their platform registration, risk management, and payment processing services."
Mr. Mike Zimmerman will continue to lead Beyond The Scores from their Kansas City MO headquarters. Beyond The Scores will continue to develop and support their entire suite of products which actively service 1,500 gymnastics clubs and events.
"In addition to a great suite of products for subjectively scored sports, Beyond The Scores has extensive experience in profile management and security which is an important feature for the millions of athletes who use SportsEngine." added Angie Franks, chief marketing officer at SportsEngine.
# # #
ABOUT SportsEngine
Helping the world play smarter and live more, SportsEngine, an NBC Sports Group company, is the leading provider of Sport Life Management web software and mobile applications for youth, amateur, and professional sports. Powering more than 500,000 sports teams, leagues, clubs, and associations, SportsEngine features a complete suite of easy-to- use tools that help sports organizations manage, connect, and communicate with a diverse range of stakeholders, including athletes, parents, administrators, coaches, referees, scouts, volunteers, fans, journalists, and sponsors. Founded in 2008, SportsEngine is based in Minneapolis, Minn. For more information, please visit http://www.sportsengine.com; like the company on Facebook at https://www.facebook.com/NBCSportsEngine/; or follow SportsEngine on Twitter at @NBCSportsEngine.
ABOUT Beyond the Scores
Based out of Kansas City, MO, Beyond The Scores is a high end software and services company. Our vision is to connect and organize the world's athletic information to create the optimal sports experience for everyone on and off the field of play. For more information, visit http://www.beyondthescores.com; on Facebook at https://facebook.com/BeyondTheScores or follow Beyond The Scores at https://twitter.com/beyondthescores.