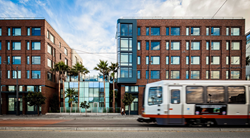 "We are already working with Ankrom Moisan on several developments in the Bay Area and look forward to more opportunities for collaboration now that they've opened up shop in San Francisco," said Related California Executive VP of Development Susan Smartt
San Francisco, Calif. (PRWEB) July 25, 2016
Ankrom Moisan Architects (AMA), the architecture firm behind the renaissance of Portland's Pearl District and active in the transformation of Seattle's South Lake Union neighborhood, has acquired San Francisco-based architecture firm Forum Design. The move follows Ankrom Moisan's design of several notable projects in the Bay Area, including Channel at Mission Bay; Jewish Home of San Francisco; Marea Alta, a modular, affordable housing development in San Leandro; Levare and Misora at Santana Row; and Post Tower in San Jose.
By joining forces with Forum Design, Ankrom Moisan gains the intellectual capital and on-the-ground experience of an established San Francisco firm, while Forum Design gains the resources of a much larger firm with a broader West Coast presence. Forum Design's Co-founder Warner Schmalz has more than 40 years of experience in architecture and master planning. Ankrom Moisan, in business for more than 30 years, now has more than 350 employees across its three offices in Portland, Seattle and San Francisco.
"We couldn't be more thrilled to be teaming up with Warner and Forum Design," said Dave Heater, President of Ankrom Moisan. "Warner has been here for decades and knows the Bay Area culture and regulations inside-out. He and his team understand how to successfully design urban housing in the city."
Well-regarded for their diverse work in mixed-use and multifamily projects—including market rate, student, affordable, and senior living communities—Ankrom Moisan's work also includes thriving hospitality, workplace, and healthcare design portfolios. Given the firm's reputation for exceptional design, many notable San Francisco developers such as Related California have been pleased to learn about AMA's expansion into their city.
"We are already working with Ankrom Moisan on several developments in the Bay Area, and we look forward to more opportunities for collaboration now that they've opened up shop in San Francisco," said Related California Executive Vice President of Development Susan Smartt.
Forum Design's current projects in San Francisco include several major residential developments along the Van Ness corridor, the renovation of Rincon Towers, and the 1880 Mission Street mixed-used project. The firm recently completed 1650 Broadway in Pacific Heights, a 35-unit residential building, along with five projects on or near Market Street.
"We really lucked out by teaming with such an exceptional firm whose values and interests are so closely aligned with our own," Schmalz said. "We couldn't have found a more compatible firm to join forces with, and every team member at Forum Design is excited about the collaboration and new opportunities."
Ankrom Moisan excels at diversity of scale and, as the Bay Area's population boom is raising housing issues in the city, the firm's San Francisco office plans to focus on mixed-use housing projects of all sizes for every market, including affordable, market-rate, senior, and student housing. AMA San Francisco sees a number of opportunities to help address the city's homelessness and affordable housing issues by designing residential buildings in downtown, South of Market (SoMA) and eastern San Francisco.
"Our design philosophy aligns well with the city's commitment to livability, walkability, and sustainable design, and AMA San Francisco plans to place an emphasis on pedestrian-focused design and environmentally-responsible construction," said Travis Throckmorton, Principal at Ankrom Moisan Architects San Francisco, who started with AMA in 1997 and relocated from Portland to San Franciso to help lead the new office. "Ankrom Moisan is recognized for place-specific design expertise that ensures each project is adapted to its surrounding neighborhood within specific markets."
Ankrom Moisan was founded in Portland in 1983 and opened its second office in 2006, responding to clients' requests for more local presence while working on Seattle projects. AMA's Seattle office has grown to more than 100 employees in the last ten years. AMA's expansion into San Francisco will follow the same pattern of client care they have become known for by current clients. The firm has been working in California for more than a decade, but opening an office in the Bay Area will help Ankrom Moisan better serve both new and existing clients.
"My heartiest congratulations goes out to AMA on the firm's expansion into the San Francisco market," said Daniel Ruth, President and Chief Executive Officer of the Jewish Home, which AMA is helping redevelop and transform. "I have found Ankrom Moisan to be one of the most creative and thoughtful firms when it comes to developing extraordinary environments for older adults and their family members. Additionally, I have personally enjoyed working with the team and have found them to be very helpful in our quest to create the most innovative spaces that promote healthy aging."
Undertaking its most significant redevelopment and transformation in its 144-year history, the Jewish Home of San Franciso's nine-acre Silver Avenue campus will be transformed from a facility that currently serves some 1,800 residents and short-stay patients annually into a bustling, thriving site of services, support and community that serves thousands of people across the Bay Area.
About Ankrom Moisan Architects
Architects Stewart Ankrom and Tom Moisan formed Ankrom Moisan in 1983 to provide integrated architectural, interior design, and urban design services to their valued clients. Today they are a national firm with more than 350 employees in offices in Portland, Seattle, and San Francisco, offering branding and identity services in addition to the more traditional architectural disciplines.
The mission of Ankrom Moisan is simple: Create Places Where People and Communities Thrive.
Ankrom Moisan's portfolio includes award-winning mixed-use developments, condominiums, market-rate apartments, affordable housing, senior living communities, student housing, healthcare, workplace, and hospitality projects. Much of the firm's work is in urban environments and most of their projects include a mix of uses.
For more information, visit: http://www.ankrommoisan.com