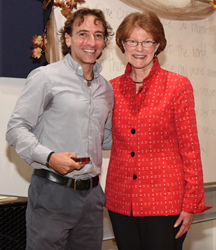 Roanoke, Va. (PRWEB) July 24, 2016
Hollins University is proud to award the winners of the Margaret Wise Brown Prize in Children's Literature with a medal ceremony during the 2016 Francelia Butler Children's Literature conference.
A former New York City public school teacher who has written more than 20 children's books has been named the winner of the first annual Margaret Wise Brown Prize in Children's Literature.
"Margaret Wise Brown said, 'A good picture book can almost be whistled….All have their own melodies behind the storytelling,'" said judges Elissa Haden Guest and Judy Schachner in a statement. "In that spirit, we award the Margaret Wise Brown Prize to Phil Bildner for Marvelous Cornelius, a book about a simple, musical man who inspired the cleanup of New Orleans in the aftermath of Hurricane Katrina." Illustrated by John Parra and published by Chronicle Books, Marvelous Cornelius is geared toward children ages 4 – 7.
Guest, who herself has written numerous children's books including Bella's Rules and the award-winning Iris and Walter series, and Schachner, creator of the Skippyjon Jones picture book series, also presented authors Jane Yolen and Heidi E.Y. Stemple with the Margaret Wise Brown Prize Honor Book for their work, You Nest Here With Me, a lyrical goodnight book illustrated by Melissa Sweet and published by Boyds Mills Press.
Hollins University established the Margaret Wise Brown Prize in Children's Literature as a way to pay tribute to one of its best-known alumnae and one of America's most beloved children's authors. Winners received a $1,000 cash prize, which comes from an endowed fund created by James Rockefeller, Brown's fiancé at the time of her death.
"We are so grateful to James Rockefeller for endowing this prize," said Hollins University President Nancy Gray. "With this gift, we are able to both honor the legacy of one of our inspiring alumnae, Margaret Wise Brown, and encourage the next generation of children's literature authors."
In the awards ceremony, winners also received an engraved medal conceived by award-winning sculptor, painter, and Hollins alumna Betty Branch of Roanoke. Winners and Honor Book recipients have been presented a certificate designed by Ashley Wolff, author and/or illustrator of over 50 children's books.
"The Margaret Wise Brown Prize is one of the few children's book awards that has a cash prize attached," said Amanda Cockrell, director of the children's literature program at Hollins.
Margaret Wise Brown graduated from Hollins in 1932 and went on to write Goodnight Moon, The Runaway Bunny, and other children's classics before she died in 1952. Hollins celebrated her life and work with a year-long Margaret Wise Brown Festival in 2011 and 2012, which featured stage and musical adaptations of her work along with readings, workshops, guest lectures, and other activities for all ages.
The study of children's literature as a scholarly experience was initiated at Hollins in 1973; in 1992, the graduate program in children's literature was founded. Today, Hollins offers summer M.A. and M.F.A. programs exclusively in the study and writing of children's literature, an M.F.A. in children's book writing and illustrating, and a graduate-level certificate in children's book illustration.