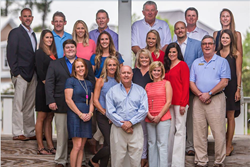 Top 1% of all Real Estate Teams in Wilmington North Carolina
Wilmington, North Carolina (PRWEB) July 29, 2016
Ranked in the top 1% of all real estate teams in the United States, Intracoastal Realty has a wealth of local knowledge. With more than 20 licensed Broker Associates, the team knows all there is to know about homes for sale Wilmington NC. At the helm of it all, Keith Beatty is one of the most respected Wilmington NC real estate teams according to Real Estate Scorecard, having sold more than 4,000 units in his 23-year career. In fact, Keith Beatty has been so successful selling homes in the area, he recently surpassed the $1 billion mark in real-estate sales.
But Beatty is humble and doesn't take all the credit for his incredible success. "No one individual can achieve this milestone," he said in a press release. "It has been a collective effort from my team, the management and staff of Intracoastal Realty, as well as all the builders we have worked with, and most importantly the thousands of buyers and sellers we have been fortunate enough to represent."
These days, more and more people are making their way to Wilmington, North Carolina. It is a beautiful city of Atlantic coastline, and gorgeous riverfront scenery. Residents enjoy boating, fishing, strolling by the ocean, and exploring the great outdoors. And as for culture, the city has a thriving local arts and culture scene. Folks looking for property in Wilmington will find there are a number of good master planned communities to choose from. It's smart to work with a broker who knows the area and its neighborhoods. Whether folks are looking for downtown Wilmington NC real estate, or single-family homes for sale Wilmington NC, they'll find the best professional advice from the Keith Beatty Team at Intracoastal Realty.
Folks looking for downtown Wilmington NC real estate, or single-family homes for sale Wilmington NC, some of the top communities that Intracoastal Realty specializes in include:
LANDFALL - Located directly on the coast in Wilmington, Landfall is a community that truly has it all. The incomparable Country Club of Landfall maintains 2 golf courses with 45 championship holes designed by Golf Legends Pete Dye and Jack Nicklaus. The club's cutting edge sports complex was developed by Tennis Hall of Famer Cliff Drysdale and includes 14 tennis courts, an extensive fitness center, and an Olympic sized pool. Waterfront homes at Landfall directly on the Intracoastal Waterway are coveted plots thanks to the relaxing panoramic views of the water and natural terrain.
HELMS PORT - Perfectly situated along an awe-inspiring stretch of the Intracoastal Waterway in Wilmington, NC, is Helms Port - a Logan Homes community where coastal elegance and simple pleasure meet. Beautiful area beaches are just minutes away, but if folks want a private beach right out the front door, look no further. Right along the shimmering intracoastal waterway is a 75-slip marina, the perfect home for any boating enthusiast. And the remarkable clubhouse offers a host of unique amenities overlooking the resort-style pool, marina and sound. Streets are lined with quaint cottage-style homes that lead to neighborhoods of custom homes and to the magnificent waterfront beyond.
PARKSIDE AT MAYFAIR - Here folks will find beautiful streetscapes with trees and wide sidewalks, homes with spacious front porches, a public garden and fountain, alley-way access to garages, ponds, and playgrounds. With some of the most desirable downtown Wilmington NC real estate, a mere five minutes is time enough to walk from home to the Mayfair Town Center for a cup of coffee. Allowing residents to live, work, play, shop, or just relax and catch up on the latest, Parkside at Mayfair is the return of small-town life, with all the benefits of a modern city.
WRIGHTSVILLE BEACH - This four mile long island is a popular place for second vacation homes. A beach lover's paradise, it has a famous fishing pier and every type of water sport folks can imagine, all within proximity to downtown Wilmington. While boat ramps, sailing schools and tackle shops cater to boaters and fishermen, there are plenty of quiet places to take in the ocean scenery. For a tour of the best beach homes along Wrightsville Beach, contact the leading Wilmington NC brokers at Intracoastal Realty.
TIDALWALK - Situated along the banks of North Carolina's Intracoastal Waterway near the heart of Wilmington, TidalWalk is coastal living at its very best. Whether folks want resort-style amenities at the multi-million dollar TidalWalk Club, or simply to live in a place of relaxed solitude, TidalWalk has first-class homes in a first-class setting right beside the ocean. TidalWalk is divided into five beautiful neighborhoods, each varied by location, home style and acreage.
If folks plan to explore Wilmington this summer or this fall, call the Keith Beatty Team at Intracoastal Realty. Their associates will help folks find the perfect coastal home, and share the wonderful things to do around the city. Whether folks want a beach home, a downtown home, or a quiet home on the golf course, they'll have no trouble finding the dream home in Wilmington.
Contact Bill Boyer of Intracoastal Realty directly at 910-262-5414 to find the most recent homes for sale in the area.
About Real Estate Scorecard:
Real Estate Scorecard writes unbiased real estate reviews providing in-depth information about popular gated communities in Florida, Georgia, the Carolinas, Tennessee and Central America, all in an effort to help people discover where to retire in the South.
Website: http://realestatescorecard.com