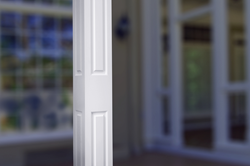 Rick Kares,Versatex's vice president of sales, states, "The response has been outstanding ever since we launched our VERSAWRAP line, and these two new product solutions will offer more design flexibility."
Pittsburgh, PA (PRWEB) July 26, 2016
These two new additions to the VERSAWRAP trim system offer the choice of a traditional raised-panel effect or a tapered profile, in easy-installation, zero-maintenance PVC. Both are simple to assemble, with permanent, full-length, snap-together closures. All components are manufactured to the industry's tightest tolerances from the same premium-quality, matte-finished cellular PVC as all VERSATEX products.
According to Versatex vice president of sales Rick Kapres, all four sides of the one-piece raised-panel wrap feature rectangular upper and lower sections separated by flat surfaces for easy railing attachment. Initially, the wrap will be sold in six-by-six-inch and eight-by-eight-inch widths, both in 8.5 or 10-foot lengths.
He said that the four-piece, tapered wrap kit will be sold in two sizes: 16 inches wide at the base, tapering to 12 inches at the top; and 12 inches at the base, tapering to 8 inches at the top, both in five- or six-foot lengths.
The raised-panel style is compatible with standard VERSAWRAP accent wraps and moulding kits, allowing customers to purchase the accessories they need to create a custom look. Versatex provides squaring corners for convenient fastening and optional skirt accessories with each tapered-wrap purchase.
With VERSAWRAP, Mr. Kapres said, builders can avoid labor-intensive mitering, alignment and fastening in the field. "Instead of painfully cutting separate angles and joints, you just wrap the post, snap it shut, and walk away," he said. "It's that simple."
"The response has been outstanding ever since we launched our VERSAWRAP line, and customers have continued to ask us for more styles. Now we're putting even more design flexibility within reach." He said contractors, distributors and lumberyard operators can learn more about VERSAWRAP from their regional Versatex Building Products representatives.
About Versatex
Weather-resistant, long-lasting VERSATEX trim materials and systems are manufactured by Versatex Building Products, LLC, of Pittsburgh, where state-of-the-art facilities produce cellular PVC extrusion products such as VERSATEX trimboards, sheet, bead board, moldings and prefabricated corners; the innovative VERSATEX soffit system; and the dimensionally compatible VERSATEX Max nominal 2-by boards. Details are posted at http://www.versatex.com.