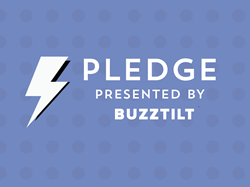 We've been thinking for a long time about how we can back in our own way and that's why we are proud to share this project simply called Pledge.
(PRWEB) August 02, 2016
Pledge, the all new service platform from Crowdfunding PR Agency Buzztilt, is helping socially minded causes for the greater good come to life with specially tailored crowdfunding promotion and consulting services.
Since their launch, Buzztilt has helped countless crowdfunding campaigns on Kickstarter and Indiegogo share their stories with the world. They've worked with brilliant entrepreneurs, artists, and businesses big and small, bring their ideas to life backed by the simple belief that stories and people matter.
"Crowdfunding at its most pure is the most powerful vehicle in human history to bring new ideas to life from the most unlikeliest of places," says Mark Winters, Director of Media at Buzztilt, "It has the power to enable all of us, no matter our situations, circumstances, or place in the world to bring about the seeds of real change with an idea."
Two of the largest crowdfunding platforms on the market, Kickstarter and Indiegogo, recently took steps to reinforce a similar belief in the community aspects of crowdfunding. Kickstarter recently established themselves as a Public Benefit Corporation, a for-profit company that is obligated to consider the impact of their decisions on society, not only shareholders. Positive impact on society becomes part of a Benefit Corporation's legally defined goals. Meanwhile, Indiegogo recently rebranded their cause-based crowdfunding arm into a new website called "Generosity" which helps socially minded fundraising causes raise money and takes no fees.
In that same spirit, Buzztilt, a Crowdfunding PR and Marketing Firm, has launched a new entity simply called "Pledge," which aims to deliver those same high quality services from their crowdfunding PR and marketing agency to those similarly minded social causes.
"We've always felt strongly about the community aspects of crowdfunding. There is nothing else like it—makers, dreamers, and civic-minded individuals all coming together to help one another grow, prosper, and succeed," adds Winters, "We've been thinking for a long time about how we can give back in our own way and that's why we are proud to share this project simply called Pledge. For those causes that are serious about impacting real change in the world and need an extra push to get the word out, we want to help."
Interested crowdfunding campaigners looking to make a change in the world can now apply online at http://www.buzztiltpledge.com
About Buzztilt
Buzztilt™ is the Leading Global Crowdfunding PR and Marketing Agency for Crowdfunding Promotion. With years of Public Relations and Marketing experience and connections in the industry while working with some of the largest consumer brands in the world, no other crowdfunding PR firm can match their expertise or reach. Promote your Kickstarter and Indiegogo crowdfunding campaign with the best.
For more information on Buzztilt please visit https://buzztilt.com
###