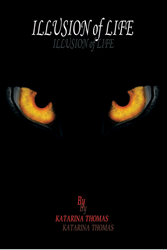 Here she truly ruled, here she was the true power of the immortal and mortal Kalderash, here she would not hesitate in her territory to kill if it was best for all the immortals of all the clans arriving for the gathering.
(PRWEB) July 25, 2016
Illusion of Life by Katarina Thomas brings us back to the gothic world of vampires replete with passion, sensuality, and that dark numbing air that permeates stories in this subgenre.
Marika, our main protagonist, keeps a secret long held from even her immortal friends and foes. The story revolves around a gypsy chieftain's daughter who has had lived through hundreds of years, and who has had attracted mortals and vampires alike with her seductive beauty that only increases in magnitude as centuries wear on.
Marika, along with her equally beautiful sister, Durinna, is much the wellspring of passion in the novel, setting up the romantic side of the book right off the bat when she meets a handsome man during an ice hockey game in the twenty-first century. The book, however, isn't mirroring Twilight or other light vampire literature that uses teenage love as anchor; Illusion of Life is mysterious, spellbinding as it is darkly attractive in a way that draws in occult readers like iron to magnet. What secret does Marika hold that even the other vampires are left in the dark? What illusions has Marika been living under? The reader will have to journey with her throughout the story to find the answer.
As with any vampire stories, you can expect blood to literally flow, but violence in Thomas' book is subtle and is used only to define the setting or reinforce the characters' bloodlust for sustenance. The real meat here is the interaction between the vampires—each one has his or her agenda. An imposing vampire named Serge provides the dark undertones, accentuated by the book's main mortal character, Eric, who echoes the naïve ignorance of the modern world to Marika's underworld.
The book is short—145 pages—and one can sense the story is part of a bigger plot, one that the author is likely to reveal more in succeeding releases. Even then, the book is a complete serving if you love occult or dark sagas, a serving that mixes romance and lust, bloodlust and necessity, and the futility of immortality as opposed to the short but fulfilling life in the mortal realm.
Katarina Thomas writes about poetry, fantasy, and vampire novels. She has also been named "International Poet of the Year" and "National Poet of the Year" four times, respectively, by the International Society of Poets.
Title: Illusion of Life Author: Katarina Thomas
Genre: Occult, Gothic
ISBN: 978-1-4958-0836-4 Paperback; ISBN 978-1-4958-0837-1 Hardcover
eISBN: 978-0-7414-8073-6
Pages: 145
Publisher: Infinity Publishing