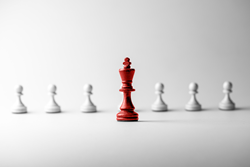 Experience counts for a lot when it comes to developing the skills to lead a workforce.
London, England (PRWEB UK) 25 July 2016
London School of Marketing has released its latest blog post, explaining how the HR skills developed on a marketing degree provide graduates with all the skills and knowledge they need to effectively lead a team. The post emphasises the importance of being able to identify various styles of employee and takes a light-hearted look at how to manage different workers.
Chrishanthi Ranwaweera, LSM student supervisor, said: "Experience counts for a lot when it comes to developing the skills to lead a workforce.
"However, taking the time to complete an HR degree helps you to develop a broad understanding of how to manage a variety of professionals, which is extremely useful if you're planning to launch a career in HR."
The blog post identifies a number of worker types, including the Grafter, who is reliable and hardworking but prefers to follow orders than take their own initiative, and the Ideas man or woman, who is a fountain of creative thinking but sometimes struggles to stay on track. The post also identifies the Mountain Climber, who is ambitious and driven but can be easily frustrated, and the Introvert, who often takes a meticulous approach to their work, but may be reluctant to share ideas as part of a team.
The full blog post, including a more detailed look at how an HR degree can help students to develop excellent team-leading skills, can be viewed here. The internationally recognised qualifications offered by the school, including its marketing and HR courses, can be viewed at http://www.londonschoolofmarketing.com/our-courses.
London School of Marketing delivers accredited marketing and business qualifications, and offers professional courses from recognised professional bodies such as CIM, EduQual and academic qualifications on Marketing, Business, Finance, Law and HRM from Anglia Ruskin University and The University of Northampton. Based in Central London, they are a QAA approved institution. The school also has offices in Sri Lanka, a network of Local Access Points (LAPs), and online programmes of learning.