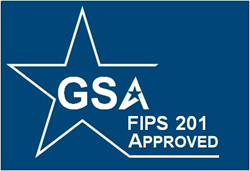 Having ADSS OCSP Server certification renewed on the GSA APL shows Ascertia's commitment to strengthen its product positioning in the US Federal and Defense markets.
London, United Kingdom (PRWEB UK) 26 July 2016
The GSA APL is essential for product procurement for the US Federal Government Homeland Security Presidential Directive 12 (HSPD-12). The issued certificate for ADSS OCSP Server can be found here.
Based on widely adopted open OCSP standards ADSS OCSP Server validates the status of digital certificates in real time, ensuring that revoked digital credentials cannot be used for smart card login, secure email, web access, wireless, VPN, or other electronic transactions. To comply with this Directive government agencies have for some time been issuing Personal Identity Verification (PIV) smart cards to their employees and contractors.
Our ADSS OCSP Server was previously FIPS 201 certified (APL#583) in July 2011 and its renewal in July 2016 (APL#1411) extends Ascertia's capability in the certificate validation field and demonstrates our global leadership in this area. We are delighted about the opportunities for substantial growth together with our existing US partners.
ADSS OCSP Server was tested using a Microsoft Azure Key Vault using Thales nShield to provide powerful FIPS 140-2 certified cryptographic algorithm and key management capabilities and passed all the test. The FIPS 201 testing was conducted by atsec information security, a security services testing laboratory with considerable experience in FIPS 201 evaluations.
About Ascertia: Ascertia is a leading provider of digital signing, verification and identity validation solutions that prevent fraud, reduce business risks and costs and provide legal weight evidence. Our products are designed and developed in-house and are well proven around the world. Ascertia's ADSS Server products are used by a variety of organizations, managed service providers and within national and global trust infrastructures.
Ascertia SigningHub is a complete solution for document approval workflows, advanced digital signatures and document status tracking. It is designed to quickly optimise the way businesses deliver, review, approve and sign their business documents. It is available as a software product for on-premise hosting as well as public or private cloud service http://www.SigningHub.com.
For additional information about Ascertia go to http://www.ascertia.com or call 44 (0)1256 895416. Follow us on Twitter.