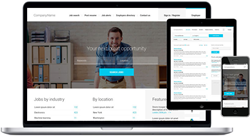 This fresh, responsive and fully featured job board solution provides an enhanced user experience for job seekers and employers
Aspen, Colorado (PRWEB) July 28, 2016
This fresh, responsive and fully featured job board solution provides an enhanced user experience for job seekers and employers, more customization options and better accessibility, especially mobile.
As global employers continue to seek to attract top talent, JobMount offers a platform for niche job boards, associations, and entrepreneurs to upgrade or launch a job board business.
Modern design
JobMount presents a fully refreshed front end design for both employers and job seekers with appealing and easy to understand user interfaces, offering the most up­-to-­date, stylish skin available for job board software.
Responsive template
Job board is fully optimized for all devices: mobile, tablet and desktop.
Full accessibility from any device
All front end users can easily access job board features, no matter what device is being used to interact with your job board. Job seekers can search jobs, and easily apply and upload resumes, from any device. Employers can buy and post jobs, manage job postings, view applications and search for resumes.
One click job alert subscription
Job seekers can take advantage of easy job alerts set up with just one click and start receiving various job offers from your job board.
Eye­-catching email notifications
We have also refreshed the available styles of email notifications to improve click-through and application rates for job alerts.
Job board template: demo.jobboardmount.com
JobMount product website: http://www.jobboardmount.com
About JobMount
JobMount is a product of Aspen Technology Labs, Inc., a leading provider of highly customizable job board solutions, careercenter solutions, mobile apply interfaces, and its industry-best job wrapping service.
Contact
Michael Woodrow
970-920-7830