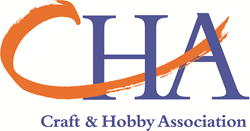 "We are very excited about the Board candidates selected this year." - Mark Lee, 2016 CHA Nominating Committee Chair
Elmwood Park, New Jersey (PRWEB) July 25, 2016
The Craft & Hobby Association (CHA) Nominating Committee is pleased to announce the 2017 slate of Board of Directors candidates for election by the general CHA membership.
The CHA members nominated for a three-year term on the Board of Directors are:

Bradley Beck, National Sales Manager of DESIGN MASTER color tool, inc.
Chris DiTullio, SVP, Marketing of Jo-Ann Stores, Inc., nominated for a second term
Roseann Kermes, Owner, Rosebud's Cottage, nominated for a second term
Eric Sauma, Owner, Mood Fabrics
Tony Sheridan, Chief Operating Officer, Ideal Shopping Direct, nominated for a second term
Jim Thielen, VP, Chief Operating Officer, H.A. Kidd and Co Ltd., nominated for a second term
"We are very excited about the Board candidates selected this year. Their experience and talent, coupled with the types of organizations they represent, will better enable the Board to fully represent the best interests of the Association, its members and the industry. All of the candidates are committed to building our industry and pushing for change to enable that growth," said Mark Lee, 2016 CHA Nominating Committee Chair.
The Board candidates will be officially elected by proxy ballot to be emailed to each CHA member company's voting contact by November 20, 2016 as outlined in the Association's bylaws. The confirmation of the Board of Directors' election will be announced at the CHA Annual Business Meeting on Sunday, January 22, 2017 during the 76th Annual CHA Conference & Trade Show in Phoenix, AZ. The CHA Board of Directors consists of individuals representing the various sections of the CHA membership. Members of the CHA Board of Directors meet quarterly to address the needs of the industry from a strategic viewpoint, strengthen the ties between CHA members and the Association, and spearhead programs to provide member value. These members serve on a voluntary basis, through which they establish networking and business opportunities, advance their careers through industry leadership, and contribute their voices as advocates for CHA members.
Serving on the 2016 CHA Nominating Committee along with Chair, Mark Lee, DreamSolutions Marketing Corp. are:

Nora Abousteit, Kollabora, Inc.
Gail Czech, The Creative Network, Inc.
Mike McCooey, Plaid, Inc.
Frank Rizzo, The McCall Pattern Company
Jim Scatena, FloraCraft
ABOUT THE CRAFT & HOBBY ASSOCIATION
The Craft & Hobby Association (CHA) is an international non-profit trade association consisting of thousands of member companies engaged in the design, manufacture, distribution and retail sales of products in the worldwide craft and hobby industry. For more information about CHA, membership or its award-winning CHA Conference and Trade Show, visit http://www.craftandhobby.org.