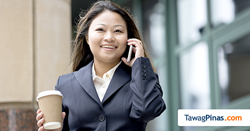 Cheapest calls to Philippines! I've been a customer of tawagpinas.com for several years. I've never had any problems with them. I've never seen a service with cheaper rates.(Robert Jones on Trustpilot.com)
Atlanta, Georgia (PRWEB) July 27, 2016
A recent study powered by TawagPinas.com, the website dedicated to the Filipino diaspora worldwide, has recently discovered some interesting data about Pinoy migration preferences and habits. The research was carried out on thousands of Filipino customers on TawagPinas.com who use the service for their international calls and top ups to the Philippines: http://tawagpinas.com/
One of the most obvious trends in international migration reveals that Filipinos favor best performing economies in the world, as well as the most liberal societies. Japan and China are not on the list, instead the countries Filipinos moved to in the past years are the USA, the United Kingdom, Australia, Canada and New Zealand, just to mention the top five major preferences. United States is know as the second country in the world, after China, with the largest economy, according to a recent Forbes article. UK is in top 10 largest economies, Canada is not only on the most economically successful countries, but also one of the most liberal ones.
Filipino expats call home every 2 days on average, which aligns them with the general pattern of expats of different ethnic origin. In other words, they do not contact their families in the Philippines more often or less often than expats of different nationalities.
An important factor that make calls to mobiles and landlines affordable are the rates on TawagPinas.com. It is 9.9 cents/minute to call landlines and 13.9 cents/minute to call mobiles in the Philippines, no matter where one lives. Plus, there are 3 ways to call, which makes TawagPinas balance available from home, on the go, with or without Internet connection.

Many Filipinos abroad place calls to the Philippines using access numbers that do not require Internet access and work like a virtual calling card.
Some use KeepCalling app installed on their smartphones without paying anything.
A few make calls from PC to any phone using a PC app called Web Call; it requires no download and can be found in one's free account with TawagPinas.com.
Filipino expats talk more than Haitians and less than Mexicans with their families and friends back home. They spend 9 minutes on average for an international call with someone in the Philippines. Yet, topics are the same: life updates, news, complaints, confessions, appraisals, etc.
There are two holidays when the Filipinos get more talkative than usually: Amon Jadid, the Islamic New Year, and Christmas. They are both family reunion holidays, with strong roots within the community. The calling technology is logically the best way to compensate for the distance in between.
Also, the recent research outlines that Pinoy are as generous with their families and friends as any other nation on the planet in expat conditions. Thousands of hundreds of Pinoy expats use TawagPinas.com to send mobile credit gifts to people in their motherland with the same frequency as the Caribbean, Africans and Latinos. Once a month seems to be the trend. On TawagPinas.com, mobile credit can be sent to mobiles in the Philippines subscribed to Globe, Smart or Sun.
In conclusion, Filipino-origin expats support their families and friends back home constantly. They not only send money and material gifts, but also mobile credit for several good reasons. It takes less than 1 minute to refill a mobile miles away. The credit gets to the Pinoy relative or friend instantly. Plus, there frequent promotions on top ups to Globe, Smart and Sun that bring plenty of extra free credit for local and international calls, sometimes even data, without any hassle and any extra investment.
TawagPinas.com has been serving Filipinos worldwide for more than 14 years. In time it has well developed thanks to feedback received from the Filipinos using the service, and it is now certified by many entities like BBB, Verified and Certified, TRUSTe and others visible in the footer of the website.
Many Filipinos remain loyal to TawagPinas.com for several reasons that override other services that facilitate international calls and top ups to the Philippines:

Free features can be activated any time to make international calls feel like local calls in terms of price, dialing procedure, phone Contacts import and connection.
Thank You points are offered automatically on every purchase for future gift calls.
Rates are the lowest on the global market, while call quality is high.
All transactions are available in the online account.
The Voice Credit balance never expires.
There are no hidden fees on any of the products (Voice Credit, Monthly Plans, Mobile Recharge)
Multiple actions are possible using the same account; for example, a Filipino expat can buy Voice Credit for his/her international calls, and occasionally top up a mobile in the Philippines or elsewhere in the world, using the same account.
There are 3 different ways to call and text with and without Internet access: a smartphone app for Android and iOS, called KeepCalling, access numbers that require no Internet access and can be used from landlines, pay phones, smartphones and old generation phones; and Web Call desktop app that requires no download (available in one's account) for calls from PC to phone.
Promotions and other goodies are shared or advertised on Facebook, where the Filipino community is growing daily: https://www.facebook.com/I-miss-Philippines-139370678405/?fref=ts
TawagPinas.com is an interactive website designed by KeepCalling, a global telecommunications company registered in 2002 in USA. Presently, KeepCalling provides its services to hundreds of thousands of consumers and businesses, with a focus on customer satisfaction. KeepCalling has been listed by Inc 5000 as one of the fastest growing companies in the USA for 5 consecutive years. In 2015 the company registered a revenue increase of over 200% from 2011 to 2014.