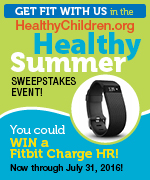 (PRWEB) July 25, 2016
HealthyChildren.org, the official American Academy of Pediatrics website for parents, is having a Healthy Summer Sweepstakes Event. Registered users of the site will have multiple chances to win a Fitbit Charge HR activity wristband that tracks steps, heart rate, sleep, and more.
The event begins July 25, 2016 and ends on July 31, 2016. Participants may enter once each day during the event. Fourteen winners will be drawn on or about August 2, 2016. Winners will be announced on HealthyChildren.org Facebook page in August or early September.
About HealthyChildren.org
The only parenting website backed by 66,000 AAP member pediatricians, HealthyChildren.org offers trustworthy, up-to-the-minute health advice and guidance for parents and caregivers, along with interactive tools and personalized content. Registered users enjoy a customized home page that features articles geared to the ages of their children. The site also offers a Find a Pediatrician service, an Ask the Pediatrician tool, the KidsDoc Symptom Checker, and more than 4,000 articles on children's health and safety.