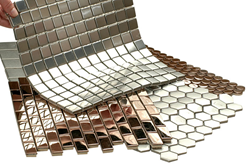 Bogota, New Jersey (PRWEB) August 08, 2016
Outwater introduces the perfect alternative to solid ceramic tiles with Genuine Stainless Steel Metal Tiles. These durable alternatives to ceramic tiles are easy to install; providing beautiful, long lasting results that really stand out.
Unlike residential grade 4mm thick metal tiles, Outwater's tiles are constructed from 8mm 304 Stainless Steel, making Outwater's Genuine Metal Tiles ideal for indoor and outdoor, commercial and home applications. These include: being used as kitchen backsplashes; on kitchen counter tops; to accentuate fireplaces; in wall applications in bathrooms and showers; on restaurant bars; and as trim and accents for ceilings.
The metal tiles are available brushed stainless steel, brushed black or brushed copper in the following patterns: small square pattern with ¾ inch tiles; large square pattern with 1-7/8 inch tiles; hexagon pattern with 1-3/16 inch tiles; pebble pattern with random shapes ½ to 1-1/2 inch in size; small brick pattern with tile size of ¾ inch x 1-1/2 inch; large brick pattern with tile size of 2-1/2 inch x 3/4 inch; and round metal pattern with tiles 7/8 inch wide. With so many different patterns available, Outwater's stainless steel tiles easily match with any decor.
The hand sorted tile mosaic conveniently adheres to a mesh stile backing making it a breeze to install with interlocking patterns in the hexagonal pattern tiles, the round pattern, and the brick pattern. The straight edges for the square pattern tiles make them just as easy to install without interlocking. The large style tiles are 12 x 12 inches and require less labor to install than conventional tiles due to their larger size. Requiring nothing but traditional masonry methods and tools for installation, metal tiles provide long lasting results, overshadowing their traditional ceramic predecessors.
For your copy of a catalog click HERE
About Outwater [Outwater Plastics Industries, Inc. + Architectural Products by Outwater, LLC]: Outwater can be contacted Toll Free at 1-800-631-8375 (For sales and product information in the USA & Canada) / 1-201-498-8750 (For sales and product information outside of the USA & Canada) or viewed online at http://www.outwater.com
Outwater, industry leader since 1972 with branches in New Jersey and Arizona, provides competitively priced, innovative, professional grade building components nationwide. Catering to commercial and retail end users, Outwater's 350K SQ FT facilities carry products that include Store Fixture Components; Knobs & Pulls; Extrusions; Surfacing Materials; Casters; Fasteners; Laminates; Exhibit & Display Fastening Systems; Literature Displays; Sign Holders; Slatwall; POP and Signage Components; Interior & Exterior Wood and Polymer Architectural Mouldings & Millwork; Columns & Capitals; Decorative Wood Carvings; Faux Stone Panels; Faux Wood Beams; Balustrading; Genuine Stone Tiles; LED Lighting and Lighting Accessories; Wrought Iron Components; Stamped Steel & Polymer Ceiling Tiles; Wall Coverings; Brass Tubing & Fittings; Kitchen & Bath Accessories, and more