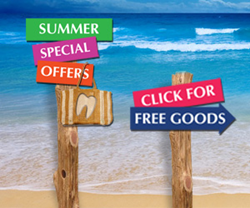 South Hackensack, NJ (PRWEB) July 27, 2016
Essential Dental Systems, a leading endodontic manufacturer, recently introduced two new dental promotions. The first promotion offers a free obturation kit with a purchase of an instrumentation kit. The second provides the dentist with a $25 gift card upon purchasing a post introductory kit.
Details of Promotion 1:
The Tango-Endo instrumentation systems saves you time by shorting your sequence by only needed two instruments after your initial glide-path. As these instruments are tough and reusable, you can use Tango-Endo instruments up to 3 times providing dramatic savings compared to single use systems. To further help you save the affordable Tango-Endo reciprocating handpiece can be used with your current endo motor or any e-type air motor.
Purchase a Tango Intro Kit and a Tango-Endo Large and Extra Large Refill ($824) and get an EZ-Fill Xpress Kit free, EDS SKU 1620-00 ($130). Offer details and ordering via http://edsdental.com/promos/2016/summerendo/.
Details of Promotion 2:
Through the incorporation of the patented split-shank, which closed during placement, the stresses of insertion are absorbed by the post (not the root) during placement of the Flexi-Post and Flexi-Flange. This split-shank predictably provides maximum retention with minimal stress. In cases with minimal coronal dentin the Flexi-Flange post system is recommended. Purchase a Flexi-Post Introductory Kit (110-00 or 110-01) Or Flexi-Flange Intro Kit (410-00) and receive a free $25 Amazon Gift Card. Offer details and ordering via http://edsdental.com/promos/2016/summerpost/.