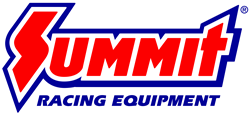 Tallmadge, OH (PRWEB) July 26, 2016
Summit Racing now carries Engine Power Mopar Magic 512 Parts Combos. Summit Racing supplied many of the parts used on the big block Mopar, which made 617 horsepower and 630 lbs.-ft. of torque on the dyno.
Mopar Magic 512 Engine Accessories Combo
The Mopar 440 engine received a performance ignition system comprised of a MSD Pro-Billet distributor and Super Conductor ignition wires. To promote component life, the team upgraded the oiling system with parts from Milodon, Melling, and Mopar Performance. The combo also includes a set of Hooker Super Competition headers, ARP main studs, and Summit Racing timing pieces.
Mopar Magic 512 Valvetrain and Induction Combo
To bring Mopar Magic into the 21st century, the PowerNation TV team used FiTech Go EFI fuel injection. The Engine Power guys also called on Trick Flow's PowerPort® 240 cylinder heads and Track Heat® intake manifold. The heads were fitted with Harland Sharp roller rocker arms, COMP Cams Pro Magnum hydraulic roller lifters, and Crower pushrods. ARP studs keep the heads in place.
See the Mopar Magic 512 Engine build beginning with Episode 9 of PowerNation TV's Engine Power.
Summit Racing Equipment
http://www.SummitRacing.com
1-800-230-3030