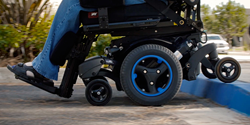 "SpiderTrac 2.0 offers an even improved experience in terms of its intuitive responsiveness and greater traction with all six wheels." Brent Hatch Senior Director of Product Management
Fresno, CA (PRWEB) July 25, 2016
Today, Sunrise Medical announced the updated release of its revolutionary SpiderTrac suspension system. All new Quickie® QM-7 Series power wheelchairs will come equipped with SpiderTrac 2.0, providing an enhanced user response and wheel traction.
New to the SpiderTrac 2.0 are two additional performance springs that provide an even better intuitive response. The improved suspension system retains the original SpiderTrac's lauded independent movement of all six wheels, but optimized articulation of the front and rear wheels give the QM-7 series chairs improved capability when crawling up and down obstacles with enhanced performance while maintaining stability and comfort. The new performance springs help all six wheels maintain increased contact with the ground when driving or adjusting seat positions.
Sunrise Medical Senior Director of Product Management Brent Hatch commended the enhanced SpiderTrac 2.0 suspension system, but emphasized the ongoing success the original SpiderTrac continues to enjoy in the field, with users uniformly offering high praise for the trend-setting technology.
"SpiderTrac has been fantastic for the Quickie brand and has helped to propel the QM-7 Series in the power wheelchair market," said Hatch. "Our customers love its versatility and stability, and SpiderTrac 2.0 offers an even improved experience in terms of its intuitive responsiveness and greater traction with all six wheels."
For videos, images, and additional information on the SpiderTrac 2.0 suspension system and Quickie QM-7 Series power wheelchairs, please visit http://www.sunrisemedical.com.
About Sunrise Medical: A world leader in the development, design, manufacture and distribution of manual wheelchairs, power wheelchairs, motorized scooters and both standard and customized seating and positioning systems, Sunrise Medical manufactures products in their own facilities in the United States, Mexico, Germany, United Kingdom, Spain, China, Holland, Poland, Norway and Canada. Sunrise Medical's key products, marketed under the Quickie, Sopur, Zippie, Breezy, Sterling, Jay, Whitmyer and Switch It proprietary brands, are sold through a network of homecare medical product dealers or distributors in more than 130 countries. The company is headquartered in Malsch, Germany, with North American headquarters in Fresno, Calif., and employs more than 2,000 associates worldwide.
For additional information, please contact:
Jay Agg: Jay.Agg(at)sunmed(dot)com