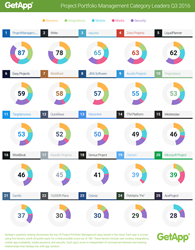 Projectmanager.com put out a strong showing with high scores across the board to put land in first place with a score of 87
Barcelona, Spain (PRWEB) July 26, 2016
The Q3 2016 list of the top 25 project portfolio management apps from GetApp has been released, with Projectmanager.com, Wrike, and DaPulse taking the top 3 spots.
The Category Leader ranking provides business owners with an overview of the top project portfolio management apps based in the cloud. The ranking is scored using five distinct types of data - each worth 20 points - for a total possible score of 100.
The five criteria used in the ranking are: security, mobile availability and corresponding ratings from the App and Google Play stores, integrations, user reviews, and media presence.
"Projectmanager.com put out a strong showing with high scores across the board to put land in first place with a score of 87. Second place Wrike also did well, in part thanks to a score of 19 in user reviews. The rest of the top 5 was a close battle with third place Dapulse scoring 65, followed by Zoho projects with a score of 63, and LiquidPlanner with a score of 62," says Suzie Blaszkiewicz, project manager of the Category Leader rankings.
See the entire Q3 2016 ranking of the top 25 project portfolio management solutions here.
More about GetApp: GetApp, a Gartner company, is the leading premium business app discovery platform on the web. Headquartered in Barcelona (Spain), GetApp serves as a platform for user-generated and editorial reviews of software and apps for businesses.