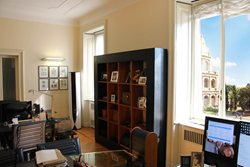 The Comprehensive Restoration Makes the Rome Coliseum Re-brilliant
(PRWEB) July 27, 2016
After five years of hard work, the first phase of restoration of Rome Coliseum successfully ended. Italian photographer Marcomatteo Stefani photographed and documented the restored grandiloquent architectural marvel from the bygone era and uploaded a series of photos of the same through his Facebook account on July 25. The coliseum, without any scaffolding, basks in its past glories.
Being a renowned documentary photographer and photojournalist, Matteo globe-trots a lot and takes pictures of places he visits. His touring photos are regularly featured on "National Geographic" magazine published from the USA. However, as an indigenous Roman, he has always demonstrated a special preference for the Rome Coliseum. He has managed to take photos of the coliseum under various light-and-shadow conditions and from different visual angles.
"It seems that time has made this great architecture far more charming", Matteo expressed. At the end of the first comprehensive restoration to the coliseum, Matteo made it a point to take a series of photos in order to keep the records of the historic and much-needed restoration of the historic structure.
From the photos which he posted through his Facebook account, it was apparent that the coliseum has undergone a massive overhaul. The social media site users connected to Matteo could easily figure out the differences between the old and new photos of the coliseum. Admirers of Matteo and historians are on the same page as they believe that this restoration was much needed and it actually helped the architectural marvel not to collapse.
In this context, Dario Franceschini, Minister of Cultural Heritage and Activities and Tourism, Government of Italy, recently said, "It could be reasonably expected that the restoration to the internal part of the coliseum would be complete in 2018 during which Rome Coliseum would be used to hold various kinds of ceremonious cultural activities such as music concerts. However, football matches would not be held in the Rome Coliseum."
It is worth mentioning that a specific photo taken by Matteo inside the office of staff at the Rome Coliseum has drawn unusually high attention from internet users. Matteo said that this photo was taken when he was asking his friend Avienus, who has worked in the coliseum, about some details about the restoration project. In this particular photo, users can get a breathtaking view of the coliseum through the window and beside the window they could locate a Haier air-conditioning system with a cylindrical panel. Apart from the air-conditioning purpose that the appliance serves, users were also enchanted to find the artistic and decorative value. Matteo is an opinion that the air-conditioning system, beautifully fitted inside the coliseum, completely changes public perception about traditional packaged air conditioners.
Contant Person:
Marcomatteo Stefani
E-mail: mm(dot)stefani(at)haci(dot)it
Phone: +39 348 3551531