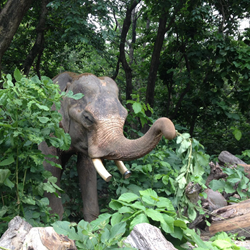 We hope that this breakthrough in attaining Mohan's long-overdue freedom sets a precedent of zero tolerance for illegal ownership of elephants.
Pratapgarh, Uttar Pradesh, India (PRWEB) July 26, 2016
In what Wildlife SOS cofounder Kartick Satyanarayan called the longest wildlife-rescue operation mounted by his wildlife-conservation organization in its 20-year history, an emaciated and ailing elephant named "Mohan" was taken from illegal custody. The grueling 20-hour ordeal took place in the early hours of July 21, 2016, and involved more than 50 police and Forest Department officers as well as representatives from Wildlife SOS.
The 55-year-old male elephant had been labelled the "unluckiest elephant in the world" by animal welfare activists because repeated attempts to rescue him have failed, and legal proceedings to win his freedom have been postponed and delayed repeatedly. However, years of persistence and efforts by the Forest Department with assistance from Wildlife SOS finally saw a breakthrough, and with it came a change of fortune for this unlucky elephant.
The District Court in Pratapgarh issued an order (Case No. 495/2014) last week to the police to immediately file a first information report (FIR) against those holding the elephant in illegal custody, then seize the elephant within three days. The rescue operation itself lasted more than 20 hours and involved stiff resistance from supporters of the elephant's owners, who were intent on thwarting the rescue attempt. The presence of a large force from the Pratapgarh Police Department helped maintain safety for the rescue team. According to the Times of India (http://timesofindia.indiatimes.com/city/agra/Unluckiest-elephant-in-the-world-rescued/articleshow/53366110.cms), the elephant's handler (or "mahout"), Ghulam, was "arrested and sent to jail." The Times also reported that supporters of the elephant's owner damaged one vehicle.
Prataphgarh District Forest Officer Y. P. Shukla told representatives from Wildlife SOS, "The elephant Mohan was transferred to custody of Forest Department in Pratapgarh, where he will be provided medical care for the time being."
According to the Business Standard (http://www.business-standard.com/article/news-ians/beggar-elephant-rescued-after-years-of-efforts-116072400675_1.html), Pratapgarh District Magistrate Dr. Adarsh Singh told Indian news agency IANS, "The elephant was in such a location where vehicles cannot reach. The nearest road was about five km away." Singh also told members of Wildlife SOS, "We complied with the directions of the court to ensure the safety of this elephant."
A medical examination of Mohan conducted by three veterinarians from the Government Veterinary Hospital after his rescue revealed that the elephant was in very poor condition, likely the result of prior abuse. The medical report, dated July 23, 2016, confirms that the elephant is thin and emaciated from malnutrition. It also mentions that wounds on Mohan's body and ears confirm beatings and poking by sharp objects, and describes foot injuries that will lead to permanent joint disorders if not treated properly and immediately. The elephant's dung indicated severe round-worm infestation.
Satyanarayan said, "We hope that this breakthrough in attaining Mohan's long-overdue freedom sets a precedent of zero tolerance for illegal ownership of elephants, and gives hope to elephants across the country that are held in illegal captivity and suffering abuse and neglect at the hands of their captors."
For more information, please contact Wildlife SOS USA Communication Officer John Pecorelli. Cell: 801 / 750-0301. Email: john(at)wildlifesos(dot)org.
About Wildlife SOS: A non-profit organization, Wildlife SOS is one of the largest rescue and conservation charities in South Asia, operating 10 wildlife rehabilitation facilities across India, including the world's largest sloth bear rescue center and the recently established Elephant Conservation and Care Center, which is the first in India and currently houses 22 rescued elephants. Wildlife SOS runs a tribal rehabilitation project that aims to create an alternative livelihood for poachers and other indigenous communities that once depended on wildlife for a livelihood. We also run a leopard rescue center, a wildlife hotline in New Delhi and Agra, and Forest Watch, which is an anti-poaching wildlife crime enforcement unit. More information about the organization can be found at http://www.wildlifesos.org. The U.S. branch of Wildlife SOS is based in Salt Lake City, Utah, ands received 501(c)3 charity status in 2005.