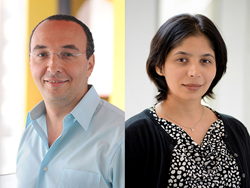 Targeting a tumor-specific profile rather than a single cancer-specific marker could result in better therapeutic efficacy.
San Diego, CA (PRWEB) July 26, 2016
Even when they are composed of the same types of cells, tumors located in different regions of a person's body can behave differently owing to differences in the tumor microenvironment, such as neighboring cells that suppress/dampen the immune response. Additionally, the cells within a single tumor can display considerable heterogeneity due to mutations. It is becoming increasingly clear that these heterogeneities are one of the reasons that chemo- and immunotherapies sometimes lead to an incomplete response: while cells amenable to the treatment are initially killed off, the refractory cells continue to propagate – leading to the phenomenon known as antigen/tumor escape.
Nabil Ahmed and Meenakshi Hegde, professors of pediatrics at Baylor College of Medicine, are utilizing CAR-T cells to mount a specific and targeted immune response against glioblastoma. Specifically, they have been interested in the fact that when CAR-T cells are engineered to target a single glioblastoma-specific antigen they can induce robust tumor shrinkage initially but eventually still give way to antigen/tumor escape in 40-60% of animals tested. They reasoned that engineering CAR-T cells to simultaneously attack multiple tumor-specific antigens would effectively cast a broader net around the tumor – minimizing the number of cancer cells that go undetected, mitigating tumor escape, and improving survival.
Their studies, published this week in the Journal of Clinical Investigation, demonstrate the efficacy of this approach against glioblastoma both ex vivo and within mouse models. The researchers compared different constructs where CARs targeting the HER2 and IL13Ralpha2 antigens were expressed in separate T cells, as distinct proteins within the same T cell, or as a single fusion protein within T cells. The ex vivo studies were conducted using the xCELLigence Real-Time Cell Analysis (RTCA) technology to quantitatively compare glioblastoma cell killing efficacy and kinetics, as well as CAR-T cell serial killing persistence/exhaustion, for these three approaches. The bivalent fusion CAR was found to provide superior target cell killing efficacy that was more sustained but not more exhaustible than what was observed in T cells expressing both CARs as distinct proteins. Importantly, these RTCA results correlated perfectly with their mouse glioblastoma xenograft studies. The authors conclude that because the overall antigenic landscape of cancers are comprised of numerous molecules, "targeting a tumor-specific profile rather than a single cancer-specific marker could result in better therapeutic efficacy."
View Ahmed and Hegde's complete paper here.
Learn more about xCELLigence RTCA, and how it is being used for cancer immunotherapy research.
About xCELLigence®
ACEA's xCELLigence® Real Time Cell Analysis (RTCA) instruments utilize gold microelectrodes embedded in the bottom of microtiter wells to non-invasively monitor the status of adherent cells using the principle of cellular impedance. In short, cells act as insulators – impeding the flow of an alternating microampere electric current between electrodes. This impedance signal is measured automatically, at an interval defined by the user (e.g. every 10 seconds, once per hour, etc.), and provides an extremely sensitive readout of cell number, cell size/shape, and cell-substrate attachment strength.
About ACEA Biosciences
Founded in 2002, ACEA Biosciences is a pioneer in the development and commercialization of high performance, cutting edge cell analysis platforms for life science research. ACEA's xCELLigence® impedance-based, label-free, real-time cell analysis instruments and NovoCyte® flow cytometer are used in pre-clinical drug discovery and development, toxicology, safety pharmacology, and basic academic research. More than 2,000 instruments have been placed globally, leading to >1,200 peer reviewed publications.
For more information visit http://www.aceabio.com.
For further information please contact:
ACEA Biosciences, Inc.
Dr. Jeff Xue
Phone: +1 858 724 0928 x 3075
email: jxue(at)aceabio(dot)com