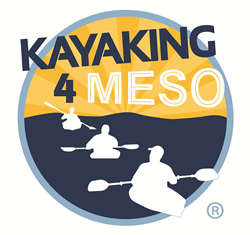 "As the number of kayakers who participate grows, so does awareness of the disease – an awareness that will boost the research and money needed to find a cure," - Mark Wells
Stillwater, New York (PRWEB) July 27, 2016
For event organizer Mark Wells, Kayaking 4 Meso is personal. In 2002, his daughter was diagnosed with mesothelioma, a type of cancer in the thin layer of tissue that covers the majority of her internal organs (mesothelium) that is caused by exposure to asbestos. With no cure available his daughter lives with hope and a father who is driven to increase awareness of the disease and to ensure funds are dedicated - and efforts to find a cure continue to move forward.
"As the number of kayakers who participate grows, so does awareness of the disease – an awareness that will boost the research and money needed to find a cure," he said. Wells, who first paddled down on the Hudson River in 2011 with one survivor of the disease and one other friend, is hoping to draw more than 200 kayakers to the 2016 Kayaking 4 Meso event.
Mesothelioma is considered a relatively rare cancer, effecting between 2,500 and 3,000 Americans each year, but there is much speculation that numbers will rise following the asbestos exposure that resulted from 9/11. The cancer has a long latency period, typically between 25 to 50 years, and a survival rate that is bleak. According to the National Institutes of Health, the median survival of mesothelioma patients is only 14 months, with most patients dying within two years. Turning 30 this year, Wells' daughter is an anomaly among survival statistics: "I am hopeful and each year all of the kayakers that paddle for Kayaking 4 Meso remind me I am not the only one. "
Hosted by the Town of Halfmoon, the day-long event opens at 8:00am with an hour and a half for check in and registration. Paddlers can drop kayaks off at the launch point, drive to Halfmoon Lighthouse Park, leave their car and take a shuttle back to Admiral's Marina, the access point. Kayakers launch from Admiral's Marina in Stillwater and arrive at Halfmoon Lighthouse Park at around 1p.m. The eight-mile, flat-water paddle route is broken up into four sections with three 20-minute breaks; one at each of the 3 locks that everyone goes through. The adventure ends at Halfmoon Lighthouse Park where food and drinks are available and there is some time to socialize before kayakers head out.
Kayaking 4 Meso registration is $30 per kayaker and includes a t-shirt for all who register prior to Friday, Aug. 19. More information and online registration for Kayaking 4 Meso can be found on the organization's website, kayaking4meso.org.