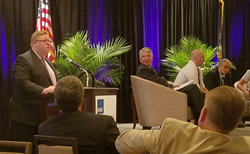 HAP 2106 presentation featured MEDI+SIGN Patient Room Whiteboards, Digital Door Displays, Nurse Station Displays and ANTI-FALL™ technology integrateding with a hospital bed.
Smithsburg, Maryland (PRWEB) August 03, 2016
MEDI+SIGN was a recent Platinum Sponsor of the Hospital and Healthsystem Association of Pennsylvania Leadership Summit (HAP) entitled Leading through Disruption held on June 6-7, 2016 at Hilton Harrisburg in Pennsylvania. The summit is a premier event for hospital and health system leaders.
As Platinum Sponsor, MEDI+SIGN addressed the need for a platform that provides a concise and smooth transition of patient information linked to patient records across staff and patient room needs. The presentation featured MEDI+SIGN combined with Patient Room Whiteboards, Digital Door Displays, Nurse Station Displays and ANTI-FALL ™ technology with a hospital bed provided by a strategic partner.
During the 2016 HAP Leadership Summit, Andrew Hoffman, President of MEDI+SIGN, conducted the closing statements which included a discussion on current solutions and how to focus on litigation reduction while improving HCAHPS performance within the healthcare industry.
Hoffman was also interviewed for a video discussing the value of the HAP Leadership Summit in which MEDI+SIGN was featured as a leader in the healthcare industry and he announced the release of a 2016 HAP Leadership Summit exclusive article authored by MEDI+SIGN.
MEDI+SIGN's digital whiteboard and room display solution link to electronic health records (EHRs) and auxiliary monitoring systems to streamline the work processes, and communicate updated and accurate information on the status of critical tasks relating to the care of individual patients. Robust functionality enables data on patient's fall risk, real-time mobility status, pain control and medication management plant, and compliance with patient safety procedures, to be displays at-a-glance to care teams. The focus of MEDI+SIGN's connected health platform is both patient and provider-centric, allowing more opportunities to create operational and workflow efficiencies across administrative, clinical and informatics teams.
Further details about MEDI+SIGN and its patient monitoring and digital whiteboard display solutions are available on the company's website: http://www.medisigndisplays.com. Questions or opportunities may be addressed online, or by phone (301-790-0103) and e-mail (sales(at)medisigndisplays.com).
About MEDI+SIGN
MEDI+SIGN provides hospital and healthcare organizations with a connected health platform that includes patient monitoring and digital whiteboard display solutions. MEDI+SIGN integrates with electronic medical records and remote monitoring systems to collect and communicate updated and accurate patient health and status information to care teams. As the medical division of Noventri, MEDI+SIGN was established in 2014 to leverage its proprietary visual communication technology to improve its hospital and healthcare provider's performance in patient safety and satisfaction, as well as the overall quality and delivery of healthcare. For more information, please contact us at http://www.medisigndisplays.com.
About Noventri
Noventri – a division of Specialized Communications, Inc. (est. 1978) – is a US-based intelligent visual communications company that excels at automation, data-based content and has established enhanced operational workflows for a wide range of industry-leading companies worldwide; including, St. Luke's University Health Network, Lockheed Martin, Proctor and Gamble, Bristol-Myers Squibb, AstraZeneca, Marriott International and Meridian Health. Noventri headquarters is located at 20940 Twin Springs Drive, Smithsburg, MD 21783-1510 http://www.noventri.com
Noventri and MEDI+SIGN are registered trademarks of Specialized Communications, Inc. Other company and product names may be trademarks of their respective owners.