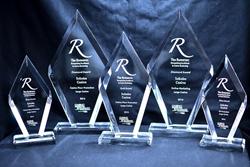 San Jacinto, CA (PRWEB) July 26, 2016
Soboba Casino took the twelfth annual Romero Awards ceremony by storm on July 14th, 2016 with an astounding total of five wins, including two "Diamond" first place awards, one "Gold" second place award and two "Silver" third place awards. The prestigious ceremony which recognizes excellence in casino marketing, was held at The Paris Hotel and Casino in Las Vegas Nevada and was hosted by BNP Media Group.
The awards ceremony is named after John Romero, a trailblazing casino marketing guru and the author of several gaming novels such as "Secrets of Casino Marketing." The Romero's are held annually in honor of gaming professionals and organizations whom best encompass the spirit of John's measurable and accountable casino marketing efforts.
Soboba Casino was recognized with the highest honors that the Romero's has to offer, not once, but twice. Though 2016 marked the first year Soboba Casino has been nominated for a Romero Award, it did not stop them from sweeping the competition.
Judges of the Romero's had hundreds of entries to review. Judging criteria included marketing or promotion concepts, strategic procedure and execution, creativity, casino revenue, and several other forms of measurable results. However Soboba Casino came into the competition with surprising analytical results, creative concepts unmatched by its competitors, and "experiential" promotional twists that appeared to come straight from an action flick.
For the awards category "Online Marketing" (Website and Social Media) Soboba Casino was awarded the Diamond Romero Award for their "First Slot Machine in Space" YouTube video, which to date has received over 372,000 views on Youtube, https://youtu.be/YhjwsZB1iLI. The video, which follows a miniature slot machine on its journey through space, was based on a month long promotion celebrating the Casino's 20th Anniversary in June of 2015.
Soboba was then awarded a second Diamond Romero Award in the category "Floor Promotions," which is regarded as the most competitive of all the award categories at The Romero's.
According to Soboba Casino's General Manager Scott Sirois "We were extremely honored when we were awarded the first Romero "Diamond" trophies of the day. We were completely blown away when we walked away with two by the conclusion of the ceremony." He continued "Our marketing team led by Soboba's Director of Marketing Michael J. Broderick, represent our commitment to excellence and ingenuity. It takes a special breed to maintain such a high level of performance for any sustained period of time but the Soboba marketing team has been continually up to the challenge; what an inspiration! Being able to provide an excellent overall gaming experience to our guests is what Soboba's casino marketing is all about, and we are all proud to be a part of this remarkable team."
The second Diamond Romero was awarded for their "Soboba's World Record Gold Rush" floor promotion in which they broke a Guinness World Record for "The Most People Panning for Gold" in October of 2015.
Soboba casino was also awarded a Gold Romero in the category of "Floor Promotions" for their "$100,000 Treasures of the Titanic" promotion in which they commemorated the anniversary of the launch and subsequent sinking of the Titanic where in addition to great cash and free play prizes, winning and invited guests were given a certified authentic relic of the glamorous ship. They received two Silver Awards in the categories of "Floor Promotion" where they were honored for their "Living Large in a Tiny Home" event were they were the first casino in the country to give away a grand prize of a Tiny Home, and the "VIP Promotion" category, in which they gifted VIP Players limited edition player's club cards, which had been flown into space with the "First Slot Machine in Space". Each card was numbered and came with a certificate of authenticity.
Soboba Casino features approximately 2,000 of the newest, hottest slot machines, an expansive and modern non-smoking room, 20 classic gaming tables featuring all your favorite card games, and a large outdoor event arena which easily accommodates over 10,000 people. Need to recharge & refresh? Visit the cozy Soboba Cafe and Coffee Kiicha, or experience AC's Lounge with full cocktail bar and three giant HD flat screens including the "Sobobatron", the Inland Empire's biggest HD video wall.
Soboba Casino is proudly owned and operated by the Soboba Band of Luiseno Indians. Come join us for all the fun and then some! Soboba Casino. Where Everybody Goes to Play! For more information visit: soboba.com
Soboba Casino: 23333 Soboba Road, San Jacinto, CA 92583, (951) 665-1000