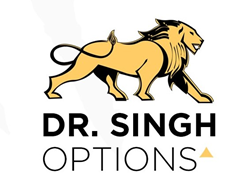 "Dr. Singh's 4 Legged Strategy" provides a brand new direction to trading options.
NYC, NY July 26, 2016 (PRWEB) July 26, 2016
A Q&A Webinar has been arranged for Sunday, July 31st at 4:00 PM EST. The highlights of the webinar are follows.
"Dr. Singh's 4 legged strategy" will be discussed in detail along with other option trading strategies. It will be explained as how one can take advantage of Dr. Singh's strategies whether the underlying stock goes up or down.
A particular example will be discussed for the options strategies on the stock Herballife Ltd ( HLF). Most expect that the stock HLF will go vertical on Thursday, August 4, 2016 opening as the company is coming up with it's earning report on Wednesday, August 3, 2016 after the market closing. Some expect it will go up high and others expect it to go down. Multi - millionaire Dr. Singh, a published authority in wealth creation does not care. Why not? Because "Dr. Singh's 4 legged strategy" covers both sides. Investors would learn how to benefit from this strategy whether HLF goes up... or ....goes down.
Dr. Singh was awarded a Ph.D. by a California University based on his research of options strategies. Dr. Singh recommended 57 trades in 2015 and was successful 56 times. He authored 12 books including, "How 12 Top Investors Made Billions In Stocks" and "Stock Options - Work 1/2 Hour A Day".
It will be discussed during the webinar how Dr. Singh plans to profit and anyone can too from the movement of HLF in either direction on Wednesday, August 4.
Dr. Singh provides options trading advice to his clients. He provides an unique guarantee that if anyone loses money based on his monthly recommendations, he will refund double the money he was paid for his service. Dr. Singh was awarded a Ph.D. based on his options trading strategies. He provides free weekly tips through his newsletter, a free book on options trading and free webinars.
Click here to register for the next webinar being held on Sunday, July 31, 2016 at 4:00 PM EST. Limited seats.