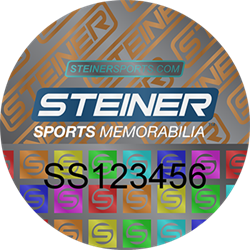 NEW ROCHELLE, NY, July 28, 2016 (PRWEB) July 28, 2016
In the sports collectibles industry, nothing is more prestigious and confidence-building than purchasing a baseball bat, football, basketball jersey, hockey stick or hundreds of other items of authentic autographed athletic memorabilia from Steiner Sports.
And starting today, Steiner Sports is going to make the memorabilia acquiring experience even better and more secure for its customers by unveiling a brand new program that will help all product purchasers keep better track of the authenticity of their purchases at no extra charge.
Here's how it works: Starting in March 2015, Steiner Sports began affixing its new tamper-proof hologram, complete with its own individual serial number, to all of its eye-witnessed autographed products. The new hologram is readily visible on all physical bats, balls, jerseys, sticks, etc. that are sold, adding an extra layer of security to a purchase. Beginning today, anyone who acquired an item from Steiner Sports that was autographed and authenticated since March 2015, will be able to go to SteinerSports.com/hologram and look up their hologram number in the company's database to see the associated product, the date it was signed and details about it. NOTE: Serial numbers must begin with the letters "SS" in order to be able to use the new authentication program.
"At Steiner Sports," noted Brandon Steiner, the company's Founder & CEO, "we recognize the passion, nostalgia and history that our authentic autographed memorabilia has for our customers - - and we are always trying to find ways to make their experience with us as enjoyable, easy and safe as possible. By launching our new Hologram identification system today, we are providing customers who may lose or misplace their original authenticity cards going back to March 2015 through yesterday to find the information they need on our website and print it out for their records."
Win a Free Autographed Derek Jeter Ball from Steiner Sports:
Whenever someone visits SteinerSports.com/hologram between now and August 31, 2016, uses the new Steiner Sports Hologram Look-Up System and provides their email address, they will automatically be entered into a random drawing to win an authentic Derek Jeter signed baseball.
* * *
Questions and requests from the media should be sent to Ira H. Silverman at irahsilverman@gmail.com of by phone at 516-633-1657..
For any other information about this new Steiner Sports authentication program, e-mail Tina Cancellieri at tcancellieri@steinersports.com or call her at 914-307-1018.
About Steiner Sports Marketing:
Steiner Sports specializes in helping companies use the power of sports and entertainment to grow their businesses. The company has spent nearly 30 years building relationships with more than 2,000 athletes; national relationships with the major sports leagues; and partnerships with the best teams in sports. These associations are the foundation for the unique sports and entertainment experiences the company provides.
# # #