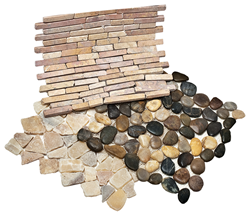 It is better to be a stepping stone than a stumbling block
Bogota, NJ (PRWEB) August 15, 2016
Interlocking Stone Tiles by Outwater are the ideal alternative to traditional ceramic tiles. These beautiful tiles are created from 100% Natural pebbles and stones which are sorted for color, size and thickness to create uniform color and level surface. After sorting they are hand placed onto interlocking mesh backer for seamless installation. These tiles are ADA compliant for interior and exterior applications and look phenomenal on walls and walkways.
Constructed from real stone, Outwater's Interlocking Stone Tiles are ideal for indoor and outdoor commercial and home applications. Being impervious to weather, indirect heat and moisture after proper grouting, the many applications for the tiles include: use as kitchen backsplashes; to accentuate fireplaces; in vertical wall applications in bathrooms and showers; around entryways; on walkways; and around pools.
The Round Laying Stone Tiles and the Flat Laying Stone Tiles are ideal in horizontal and vertical application for walkways, in backyards, and in indoor applications. The Round Laying Stone Tiles come in Latte, Cloud White, Earth Tones, Green Meadows, Mauve Tones, Onyx and Gemstone colors. The Flat Laying Stone is available in Sahara Sand and Ice Breaker colors.
The Marble Stone Tiles, the Round Stacked Stone Tiles and the [Flat Stacked Stone Tiles are ideally suited for vertical applications. The Flat Stacked Stone Tiles come in: Quartz, Lava Rock, Sahara Sand and Ice Breaker. The Round in: Earth Tones, Cloud White, Latte, Mauve Tones, Green Meadow, Gemstones and Onyx and the Marble Stone Tiles in: Wheat, and Natural Linen.
All of the tumbled marble and exotic pebble handmade tiles are unparalleled in providing a unique flair. The hand sorted tile mosaic is convenient to install with interlocking sides. The larger style 12 inch x 12 inch tiles require less labor to install than traditional ceramic tiles that are usually 4 inches x 4 inches. Requiring nothing but traditional masonry methods, tools and grout for installation, Outwater's Stone Tiles are unrivaled for long lasting, beautiful results. For customer convenience installation instructions come with every order.
Click to request a catalog.
About Outwater [Outwater Plastics Industries, Inc. + Architectural Products by Outwater, LLC]: Outwater can be contacted Toll Free at 1-800-631-8375 (For sales and product information in the USA & Canada) / 1-201-498-8750 (For sales and product information outside of the USA & Canada) or viewed online at http://www.outwater.com
From the vendor of a single product in August 1972, Outwater, with sales and distribution facilities in New Jersey and Arizona, is recognized today as a well established international manufacturer and stocking distributor of more than 65,000 standard and innovative component products required by woodworkers, cabinet and furniture manufacturers, builders, remodelers, designers, architects, point-of-purchase and display fixturing manufacturers, OEM's, as well as a diversified range of other commercial and retail end users.