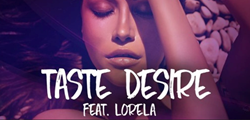 The melodic electro-pop track features some great productions and amazing vocals from Lorela.
MIAMI, FLORIDA (PRWEB) July 27, 2016
Staying true to their style of meaningful lyrics and an uplifting sounds meant to keep the party going, these 3 DJ/Producers from Miami are looking like they are just getting warmed up.
With their second release "Taste Desire", Booyah Riot elicits a feeling of passion, adventure and sexual wanderlust. During this one-track-minded stage (pun intended), the hungering desire can only be satisfied by one thing, and this track does a great job of emulating that very moment.
Let's see what these three Musical Maniacs, Gio, Kong & Wilemind have up their sleeves next.