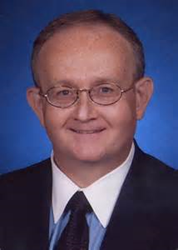 Not only was Clifford a great ambassador for the City of Jonesboro, he was a well-known fellow auctioneer and competitor and our friend
Paragould, Arkansas (PRWEB) July 27, 2016
The remaining estate of well-known and respected real estate investor, auctioneer, and community leader Clifford Toney will sell at auction August 18 and 22. Much of the proceeds will benefit Toney's Alma Mater, Williams Baptist College in Walnut Ridge, Arkansas, and Central Baptist Church of Jonesboro, Arkansas.
Selling on August 18, the real estate portion of the auction features 1.72 acres of commercial property located across from Turtle Creek Mall, the highest traffic location in Jonesboro. This property has been in the Toney family for nearly a century. A 20.86 acre tract of commercial/industrial land, known as "The Pit," located on I-555 in Jonesboro will also sell, along with his personal residence and a rental home.
An impressive variety of personal property will sell at online auction, ending August 20. Toney's collections reflect his appreciation of quality-made items and he maintained his possessions in a pristine manner. The highlights of the personal property portion of the auction include a Taylor Acoustic guitar, G'Zan Custom handcrafted electric guitar (akin to one played by Bob Seger), multiple Rolex and other fine watches, firearms, jewelry, coins and antiques.
SoldASAP, LLC, (Tasabah & Associates, LLC, broker) will conduct the Real Estate auction live with online simulcast bidding available and the personal property online only. "We are truly honored to have been chosen as the auction company for such a good cause and for such a good man," says auctioneer John Malone, CAI, PRI. "Not only was Clifford a great ambassador for the City of Jonesboro, he was a well-known fellow auctioneer and competitor and our friend."
The live real estate auction will be held at the Central Baptist Church on August 18 at 7 p.m. The personal property will sell online only, ending on August 22. For photos, bidding and details, visit soldasap.com or call SoldASAP at (870) 236-6117.
Located in Arkansas, with over 18 years experience in the auction business, SOLDasap.com specializes in helping estate executors, landowners, business owners and families sell assets and property. Family owned and operated by John & Tasabah Malone, SOLDasap.com stays on the leading edge of technology and marketing through their partnership with MarkNet Alliance, a national, membership-based network of 60 auction companies. The collaboration with MarkNet Alliance allows the company to market any asset on a global level.
Media Contact: John Malone, john(at)soldasap(dot)com, (870) 236-0632